Fresh Ideas for Your Clyde Hill Home
We love modernizing the beautiful homes in Clyde Hill. There is such a diverse variety of homes in the neighborhood that we're really able to lean into our clients' desires for creating unique spaces. Clyde Hill homes were built in the 80s, or earlier, and homeowners often come to us with a desire to remodel their homes. Whether it's about updating a dark kitchen isolated from the rest of the house or taking advantage of a change in your lifestyle (empty nest, elevated career, desire to entertain), adapting your home to suit your current needs can be a powerful motivator for considering a remodel.  
Don't Be Afraid to Knock Out a Wall
For one of our more recent Clyde Hill home design-build remodeling projects, we tore down a wall to begin our makeover. By opening up the living space, we magically transformed the kitchen, dining, and living rooms into a light, airy space with beautiful views of the area.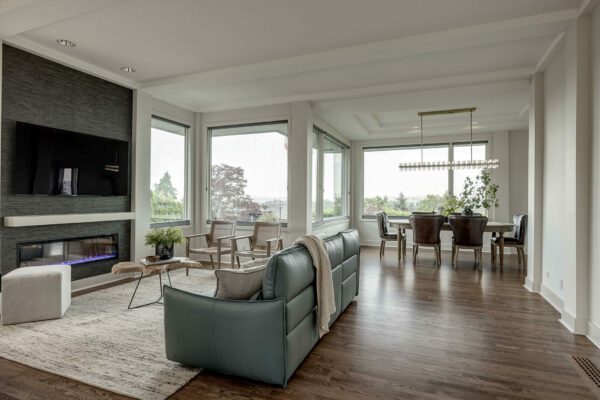 We also enjoy discovering new ways to use existing space. For one homeowner, we were able enlarge the laundry room to add a dog washing station – a must-have for Seattle dog lovers.
Homeowners choosing to work with our design-build remodeling firm allow us to assess the structure of their homes to determine which walls can be removed and how to best use available space. We've even been known to completely relocate the kitchen when necessary.
Turn Your Kitchen into Something Special
Most of the homes built in Clyde Hill during the 70s and 80s came complete with kitchens that featured dark wood cabinets, small windows, and enclosed spaces. Redesigning your kitchen might not have been a top priority while you were raising a family, building your career, and otherwise busy with that part of your life. But as your kids grow older and your career takes off, you may find yourself wanting to entertain more. Having a kitchen that makes entertaining on a grander scale possible is attractive.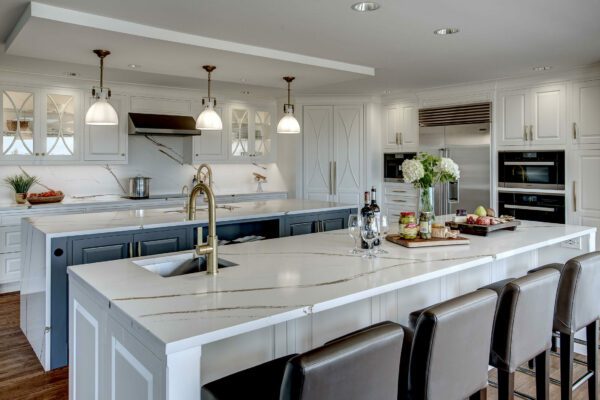 You can add light to virtually any space in so many ways. Light-colored wood, white paint, and improved lighting fixtures all do wonders. Opening up spaces by removing walls and installing bigger windows can help as well. For one particular client in Clyde Hill, the roof height was increased so that we could install a large skylight. Structurally, the home would not allow for it, so we got creative and installed three skylights together in one well of the existing roof. It dramatically brightened and transformed the space.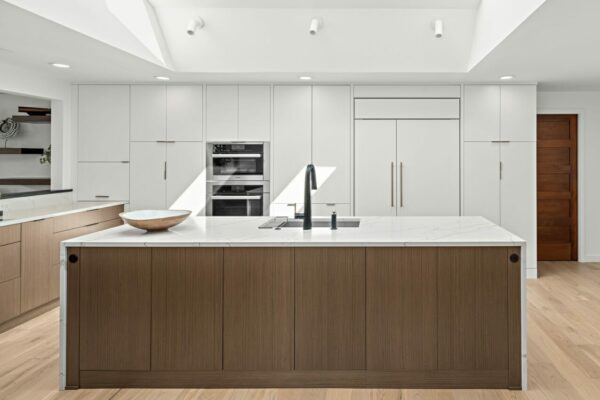 After attending the annual KBIS in Vegas, our teams come home with some amazing ideas to inspire our clients. One of our recent favorites was this new tub design. It is wrapped in a unique material that completely fuses to the tub base.  The pattern or shade can be customized to match anything.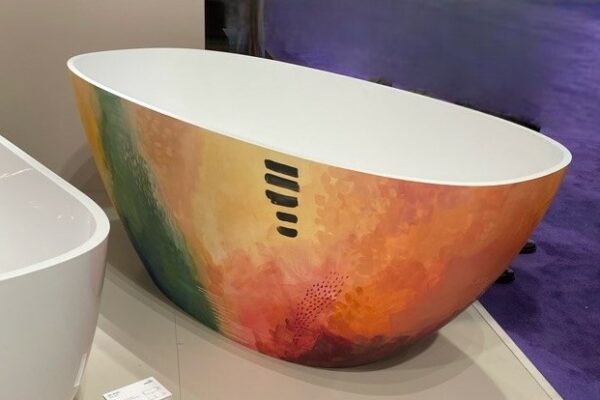 Don't Just Dream. Escape!
Of course, when you're planning to remodel your Clyde Hill home, there are so many ways you can transform your space into what you've always dreamed of having. From custom showers with heated floors and soaker tubs and tranquil picturesque views to an in-home sauna, from music rooms to wine cellars, you can let yourself dream. But don't stop there! Discover how you can truly escape by turning your dreams into reality.
Nip Tuck Remodeling Is Ready to Help Transform Your Clyde Hill Home
One of the main reasons clients come to us about remodeling is because their lifestyles have changed, allowing them to make upgrades – upgrades they've sometimes wanted to make since they bought their homes!
When you love your home and your neighborhood but know that your space could be enriched, let us help you bring your vision and dream to life. Our designers will help merge your personal style with our design-build remodeling process so that you come away from the project thrilled with your new space.
Are You Ready to Welcome Nip Tuck Remodeling Into Your Clyde Hill Home?
We serve many communities in King and Snohomish Counties, mainly on the Eastside, including: