Your bathroom is often the first and last place you visit each day – the place in which you get ready for the day ahead and the place in which you yearn to escape and unwind after a long one. So why not make your bathroom a luxurious retreat from the world? Bathroom remodeling should bring you joy and relaxation by creating a space that is both functional and visually appealing.
Creating Luxury with Bathroom Remodeling
Creating luxury requires more than just a coat of fresh paint and some new tile. It involves paying attention to the details, using high-quality materials, selecting innovative designs, and adding personalized statements. With a designer team guiding you towards interesting shapes, finishes, custom lighting, creative tile patterns, and textures, you'll find that small details add up to luxurious results. For many of our clients, this may mean removing a tub, or adding one, redesigning the plumbing, raising the roof to add a skylight, or knocking out a wall to make the space bigger. The possibilities for luxurious bathroom remodeling are limitless.
In this article, we highlight five of our favorite bathroom remodeling projects and what made them so special.
Project: Sammamish Soaking Tub with a View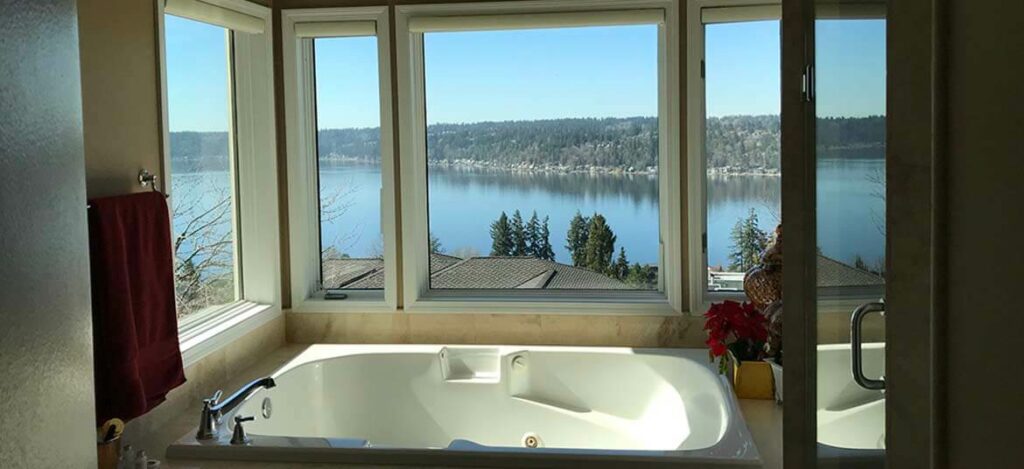 This 2020 REX award winner for bath excellence, and NKBA honorary award winner for best before and after, was a challenging project that required creativity. The owners sought modern, minimalist luxury that took advantage of the sweeping views of the lake and mountain. For this bathroom remodeling project, we removed the existing bath and shower and created an entirely new spa-like bath, complete with floating double vanities.
Project: His-and-Hers Retreat in Sammamish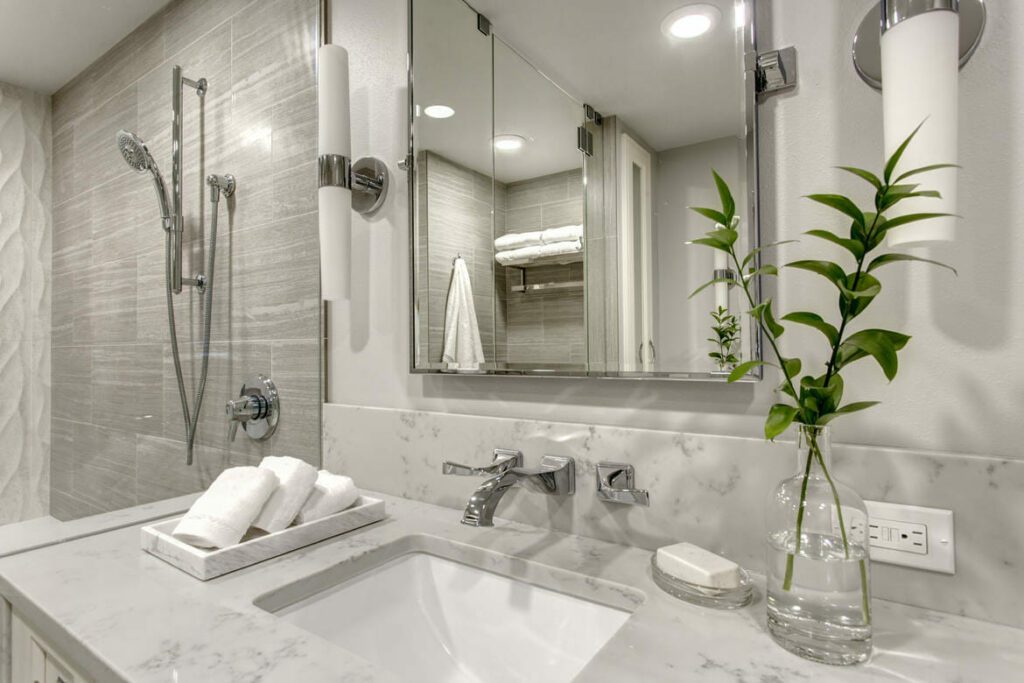 In order to give these homeowners the primary bath they deserved, we had to tear out two closets and use the space to enlarge the bathroom. His-and-hers vanities, gorgeous quartz countertops, and a sculpted tile feature wall created the luxurious backdrop for the walk-in shower and jacuzzi tub combo. True luxury with this bathroom remodeling project.
Project: Modern Oasis – Bellevue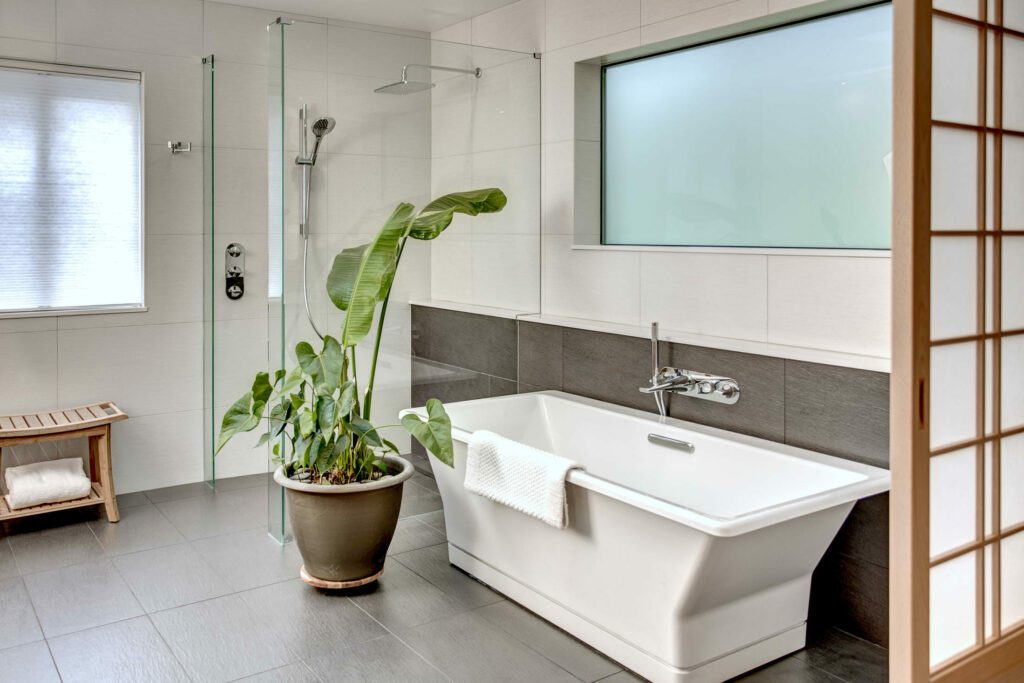 These homeowners started to tackle this project on their own, demolishing the existing primary bathroom. It was at that point that they realized they needed a design-build remodeling firm to help them bring their vision to reality. That's where the Nip Tuck team stepped in and helped create the oasis they dreamed of, complete with a freestanding tub situated below an enlarged window with a ledge running the length of the wall and extending into the glass-enclosed, zero-threshold shower.
Beautiful Bridle Trails Remodel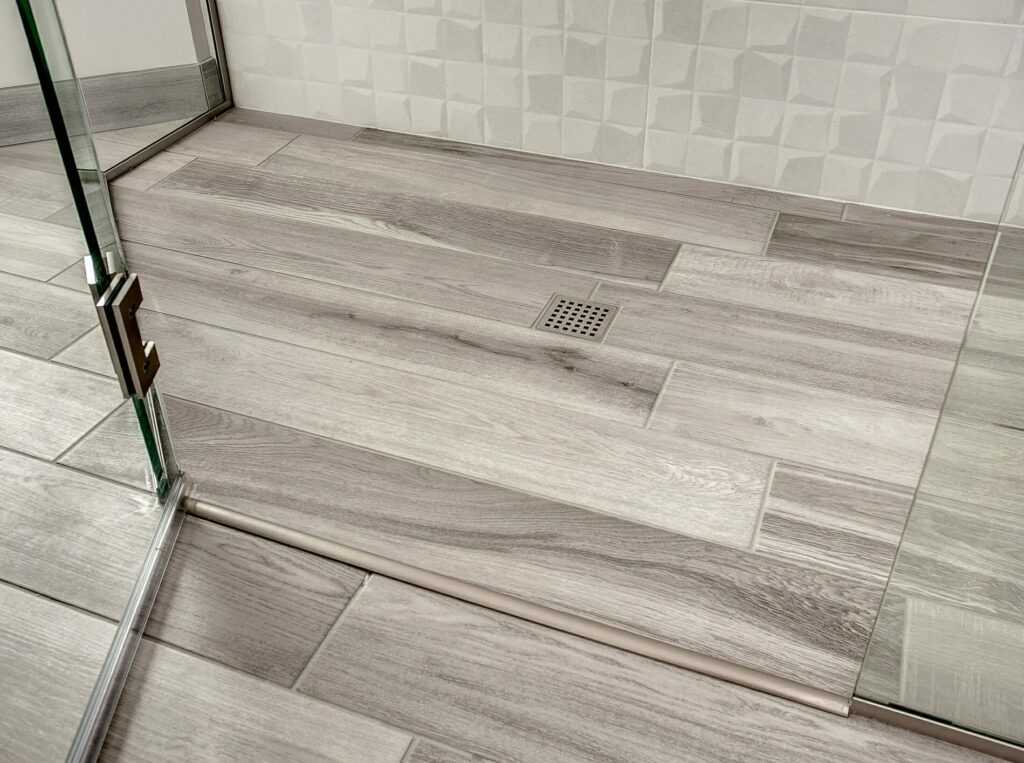 This magical transformation resulted in a spa-like escape with an enlarged shower, increased storage, and towel warmers. An elegantly shaped Kohler Veil freestanding tub became the perfect place for the clients to soak away the day's stress while enjoying the view from the original, custom-etched glass bay window.
Modern Zen Bellevue Oasis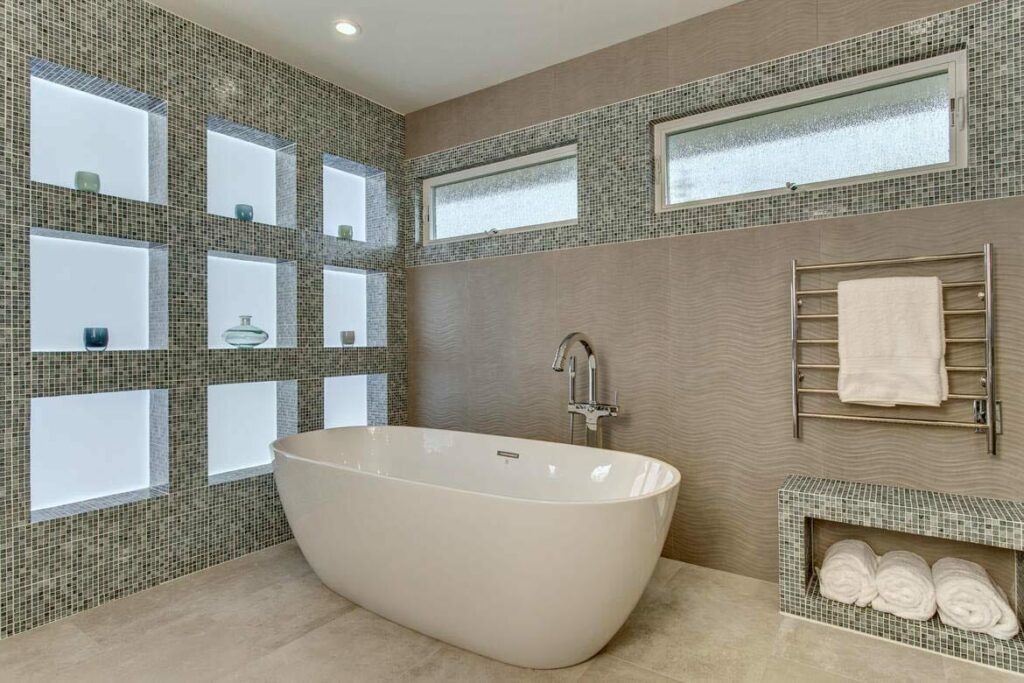 Details transformed this bathroom into a luxurious escape. Our designers opened up this cramped space that the client described as being "in a cave," turning it into a light, bright oasis with a custom wall fashioned of LED back-lit panels and glass tiles. This was complemented by heated floors and a towel warmer just outside the shower.
Benefits of Bathroom Remodeling
According to the National Association of REALTORS®, 71% of the value of a bathroom renovation can be recovered from the project. But the decision to remodel a bathroom is about more than just ROI. When your bathroom is outdated, dark, or feels cramped, a remodel can make getting ready in the morning and turning in at night experiences that are relaxing and joyful. Whether you need luxurious touches like heated floors and an in-home spa, a larger shower, a rainfall showerhead, ambient lighting, a double vanity, or a soaker tub with gorgeous views, a bathroom remodel can bring you delight and tranquility.
Modern Bathroom Remodeling Trends to Consider
Modern bathroom design trends often feature open designs, minimalist color palettes, and high-end finishes. Consider these trends for your bathroom remodeling project:
Free-standing tubs provide a focal point for the room and can create a sense of luxury and relaxation. As you can see from some of our projects, with the gorgeous views most Eastside homes enjoy, a strategically placed tub overlooking the mountains and lakes of our region can create a joyful, spa-like experience.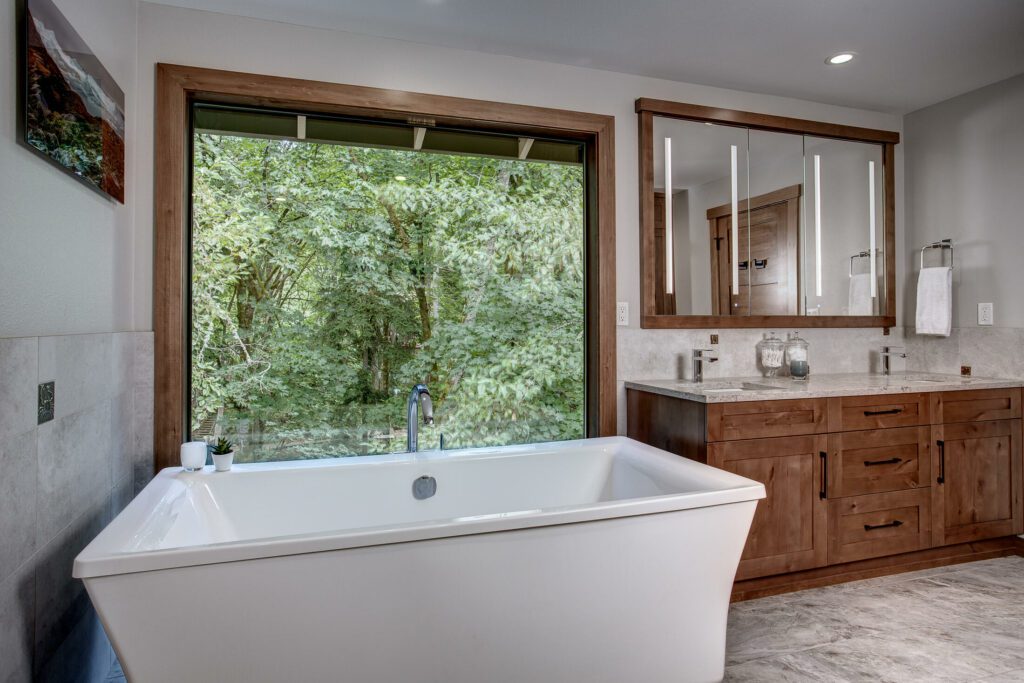 Floating vanities create a clean, minimalist look and provide additional storage space.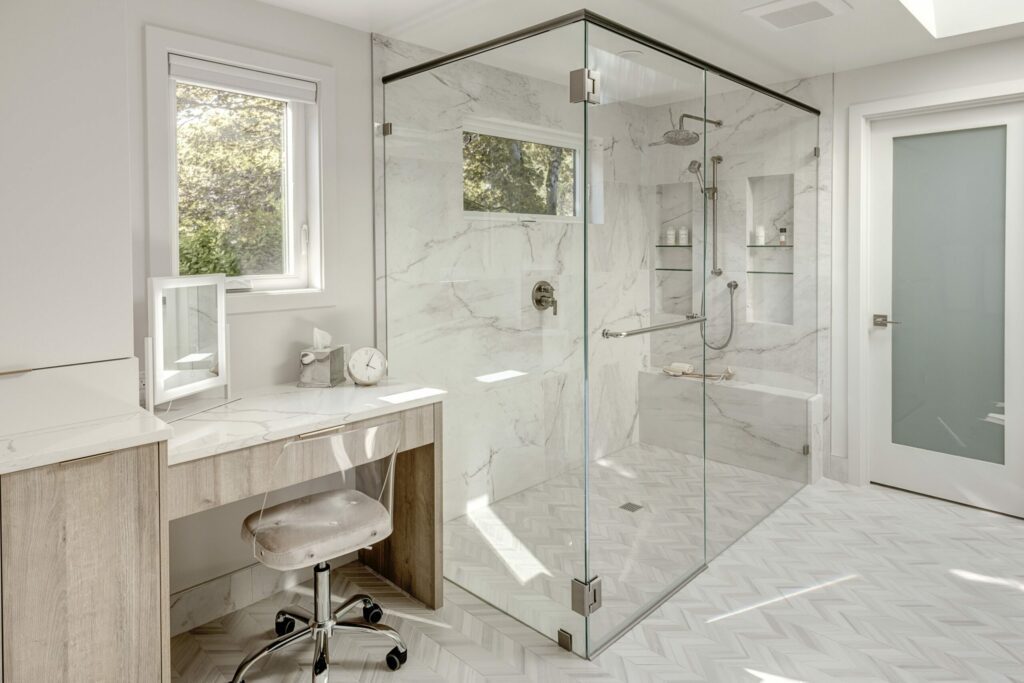 Natural materials like wood, stone, and marble can create a sense of warmth and relaxation.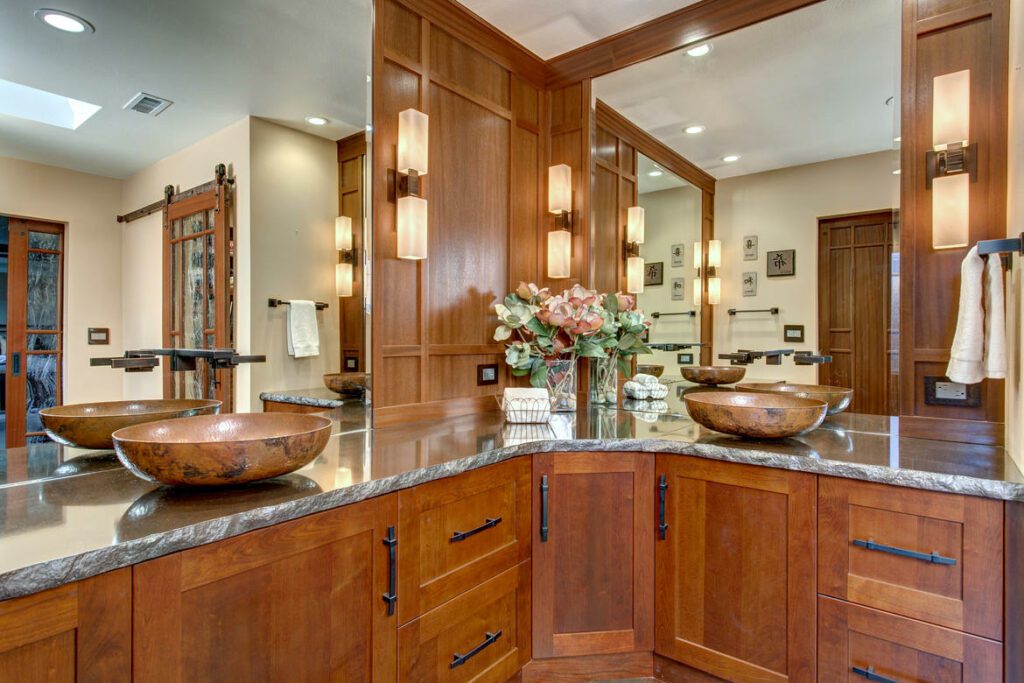 Your bathroom is one of the most important spaces in your home. The benefits of a bathroom remodel go far beyond functionality and can radically alter your home experience.
Why Nip Tuck for Your Bathroom Remodeling Project?
Nip Tuck Remodeling is a reputable brand, and our design-build model integrates the creative process seamlessly into the building and construction process. By choosing a high-quality design-build remodeling firm like Nip Tuck Remodeling, you are ultimately making a cost-effective choice. Here's why:
Reduced risk of damage from moisture, heat, and humidity – The quality materials we use are less likely to warp, crack, or deteriorate, resulting in a longer lifespan and a reduced need for frequent repairs or replacements.
Reduced risk of water damage – We use water-resistant tile, moisture-resistant paint, properly sealed subfloor and wall materials, and protective barriers on surfaces to prevent water penetration. These in turn help to prevent destruction, structural damage, mold, and rotting; furthermore, they help to maintain a healthy environment.
Easier maintenance – Quality bathroom materials are often nonporous, stain resistant, and less likely to harbor bacteria or mold; subsequently, they are easier to clean. Lower-quality materials may require more frequent, intensive cleaning.
Improved aesthetics – By using materials with finer finishes and improved color fastness, the bathroom will maintain its original appearance for a much longer period of time.
Health and safety – Volatile organic compounds (VOCs), leaching chemicals, and other moisture- or heat-stimulated toxins can permeate the entire space. High-quality materials meet a higher safety standard that can help maintain a healthier environment.
If you're ready to create a luxurious escape, get in touch with us about your bathroom remodeling project.