Whether you're dreaming of a luxurious primary suite, a modern kitchen, or a functional home office (or all the above), connecting with a design-build remodeling firm for your Sammamish home is the place to begin. We regularly work in Sammamish and it is fascinating to become more familiar with the growth, the amazing community events, and the beautiful views of this great city.
Benefits of Design-Build Remodeling
When you think about how much has changed since your home was built, in terms of technology, energy efficiency, and even luxury, it's easy to see why we get so excited about the work we do with Sammamish homeowners. The benefits of working with a design-build remodeling firm like Nip Tuck gives Sammamish homeowners a single point of contact for every phase of the project. Unlike traditional remodeling methods where the design and construction phases are separate, design-build remodeling integrates both processes, resulting in a more streamlined and efficient experience.
Understanding the Design-Build Process
Not only is design-build remodeling a one-stop-shop approach but it's also the-buck-stops-here approach. Yes, this makes remodeling easier for you, but it also provides a reality check.  We hate hearing about Sammamish homeowners who spend so much money and time on design, only to find that the concepts they envision for their homes won't really work in reality. This happens too often. But the design-build model removes that feeling of complete shock.
Finding the Right Design-Build Remodeling Team in Sammamish
Choosing the right design-build remodeling company for your Sammamish home is crucial to the success of your project. With so many options available, it's important to do your research and find a reputable firm that aligns with your needs and vision. Most people ask friends, family, and neighbors for referrals for a remodeling firm (and there are a lot of delightful, as well as terrifying, stories out there), but it can also be helpful to talk with coworkers or ask for suggestions on neighborhood social media groups, such as Facebook or Nextdoor.
Once you've narrowed your list of potential remodeling partners, there are four things you must do to make the best choice (three of them take less than 30 minutes):
Check out the remodeler's portfolios and projects. Do you see a variety of different designs and styles, not just cookie-cutter designs that look the same from project to project?
Read the company's 'About Us' page. Is it sincere? Do the people seem real? Are they involved in the community and passionate about their work? Do they seem approachable?
Read between the lines when you read reviews. Reviews can seem generic, but when a reviewer names multiple people who were great to work with or indicates that something custom was made exactly how they wanted it, you can get a feel for how well the firm listens to and works with their clients.
Invest time in the interview stage. What questions do they ask you? Pay attention to how you feel. Are you being rushed through the interview process; are you treated like just another client or is there genuine interest in your home and your vision? Be sure to have a list of your own questions. You will be more likely to make a great choice with these guidelines in your back pocket and a few jumping off questions to ask your prospective remodeler.
A Selection of Nip Tuck's Design-Build Remodeling Projects in Sammamish
To inspire you and provide real-world examples, let's look at some of Nip Tuck Remodeling's design-build remodeling projects in Sammamish. These projects showcase the talent and expertise of our design-build firm.
Functional Yet Comfortable Sammamish Laundry Room
This Sammamish homeowner realized how much time she spent inside her cramped laundry room — not just washing and drying clothes but also working from home and doing other tasks — and she decided it was time to dream big. Our design-build remodeling team:
Removed the bulky closet and installed stacking laundry machines.
Opened up the wall and fashioned creative cabinetry and a soffit to camouflage the HVAC.
Placed a built-in desk area at the entrance, with under-cabinet outlet strips installed to hide cords and keep the backsplash unmarred.
Constructed around the room's perimeter a quartz countertop featuring marble veining.
Installed clean, white cabinetry above and below for plenty of storage.
Added a curved statement window, letting in a wealth of natural light.
Sammamish Kitchen Remodel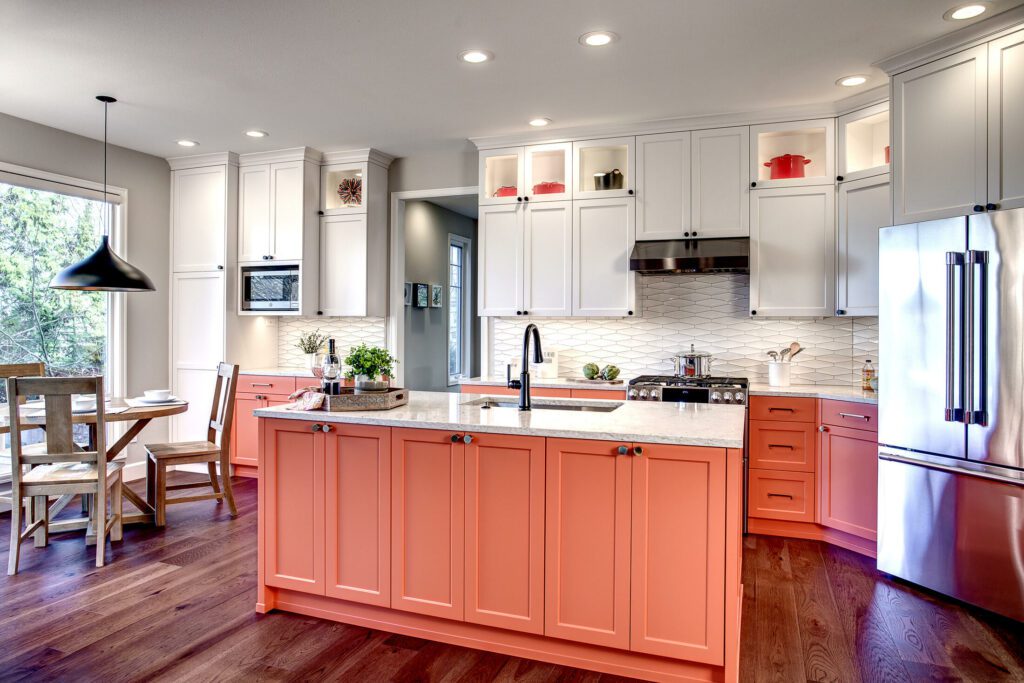 These Sammamish homeowners were in desperate need of better storage and a modern look for their kitchen. Our design-build remodeling team:
Eliminated the wasted space above the upper cabinets, by adding bright white cabinets that extend up to the ceiling.
Added interior cabinet lighting along with a glass door display.
Added vibrant coral-colored cabinets with stylish brass hardware.
Put additional cabinets in the island and extended the look into the living room, providing a way to store games and toys out of sight.
Added a beautiful, gray-toned granite countertop and diamond-patterned backsplash.
Gave the fireplace new life with stunning floor-to-ceiling stone mosaic tile that carried the color from the kitchen.
Replaced the sliding pantry with more cabinetry and a countertop, to create a charming breakfast area.
Sammamish Primary Bath Remodel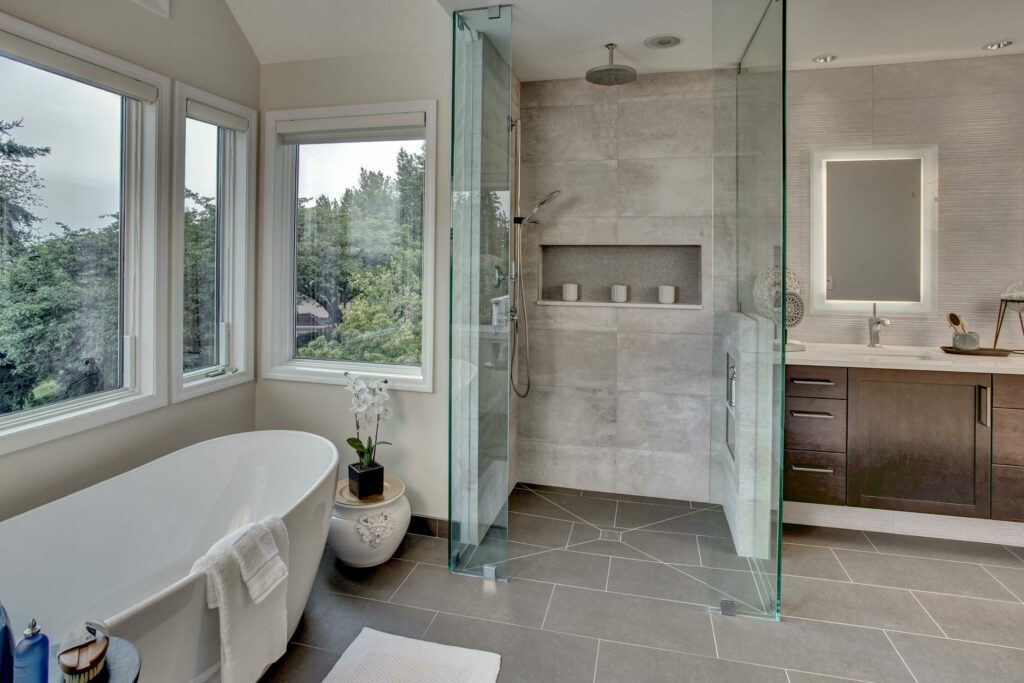 These Sammamish homeowners needed a modernized primary bath that reflected their personal style. Our design-build remodeling team:
Removed both the bathtub and the shower, to open the space and allow for an elegant freestanding tub.
Added a new zero-threshold, walk-in shower framed with glass walls.
Installed a floating double vanity for a clean, modern look with ample storage.
Delivered on small details, like a warming towel rack, radiant heat flooring, and recessed niches in the shower.
Let's Get Started with Your Sammamish Design-Build Remodel
Design-build remodeling offers homeowners in Sammamish the opportunity to transform their homes into spaces that perfectly reflect their style and meet their needs. By understanding the design-build process, finding the right contractor, and working closely with a design-build team, you can bring your remodeling vision to life with confidence and ease. Remember to plan your project carefully, choose the right materials and finishes, and budget wisely to ensure a successful outcome. With this introduction to design-build remodeling in Sammamish, you'll be well-equipped to turn your house into a home that you'll love for years to come.