From Norman Rockwell paintings to imaginings from 'Twas the Night Before Christmas, one of the most wonderful family traditions is gathering around the fireplace during the holidays. The fireplace is quintessentially Christmas and one of the most popular elements of a living room remodel. Today's fireplaces offer all the warmth and comfort of tradition and can add value to your home. Making the fireplace a beautiful focal point can tie a room together and gives you a gathering place for friends and family to bond and share time.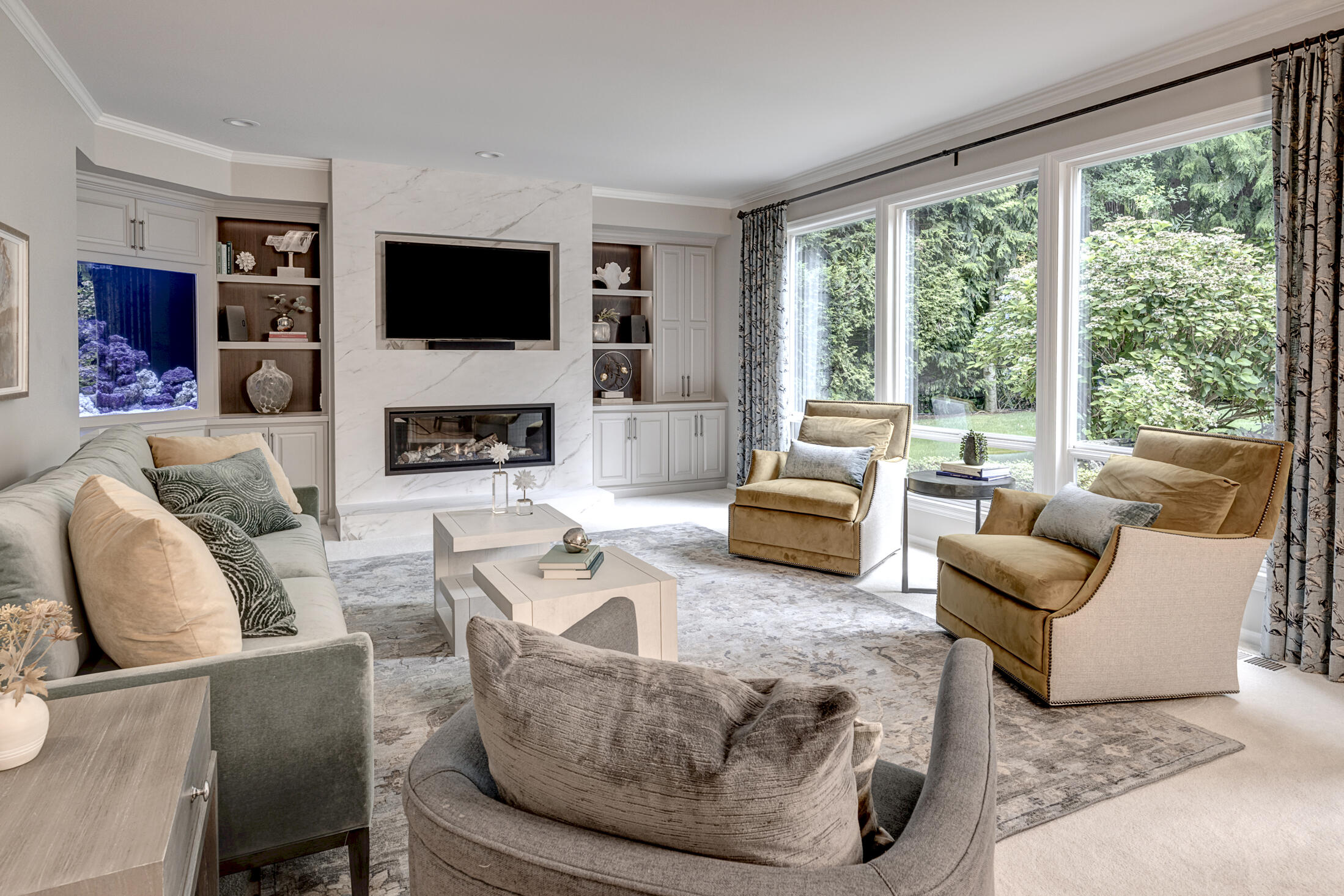 SNOW IN EASTSIDE?
We're known for our rainy days, but lately, more winters than not have yielded more than their share of snow. Sammamish averages six inches of snow per year. Bellevue and Woodinville get approximately five inches of snow each year; Kirkland and Redmond around four. But this year, almost that much snow has already fallen in November!
Having a warm fire to gather around at home makes it easier to embrace the snowy, frigid outdoor merriment of winter. Imagine coming home from a chilly day of shopping or coming in from building a snowman in the back yard and being able to cozy up in front of your fireplace while sipping a cup of hot chocolate. And what a setting it makes for family photos and Christmas morning!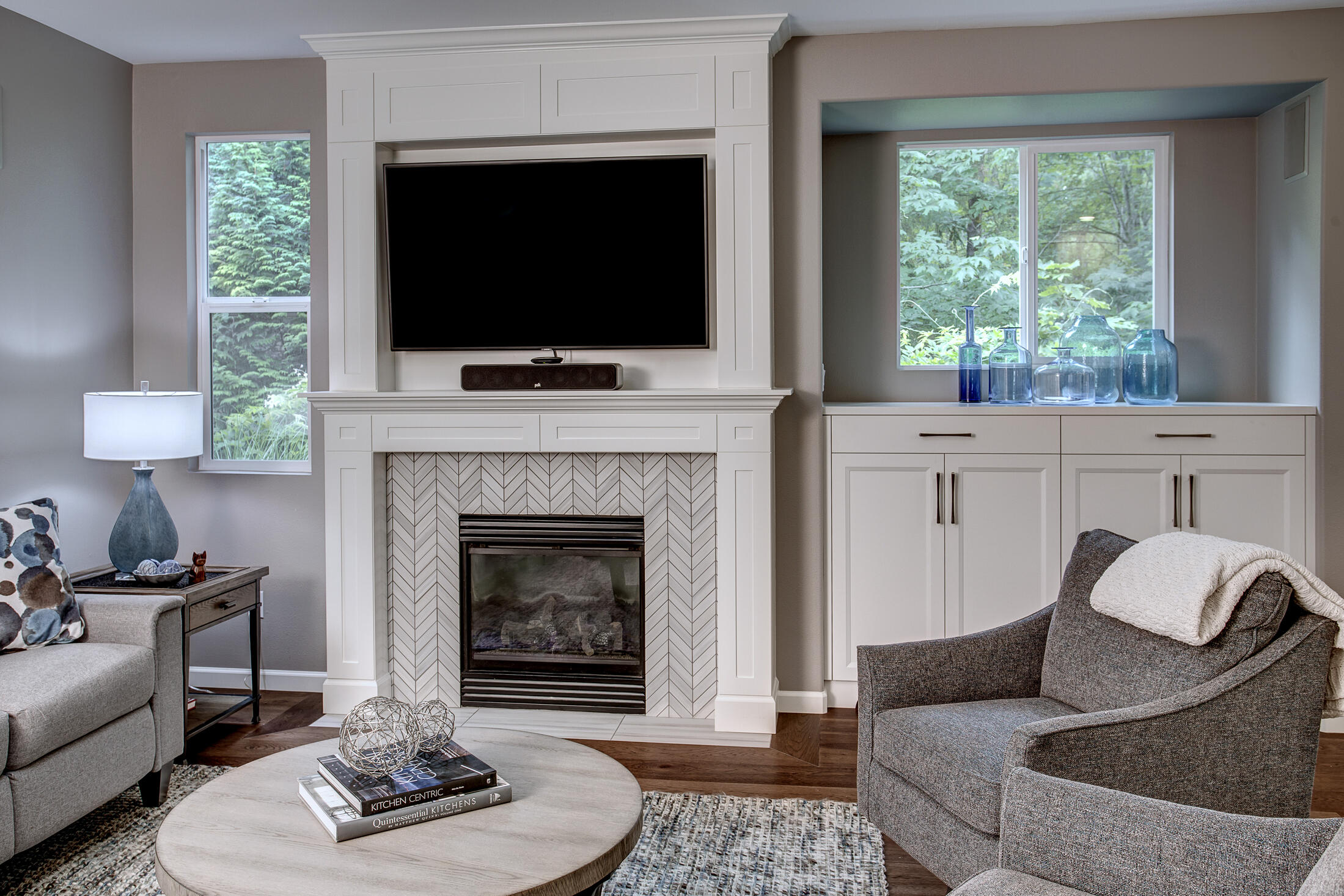 CREATING CONNECTION
The fireplace is more than just a way to warm up from the snow and cold. When you begin imagining your home remodel, you might tell our designers that you want a more open space in which the rooms are more connected. You may envision the fireplace being a part of that. We help create spaces in which the design lets people be the focus, with intentional transitions between rooms like the kitchen, dining room, and living room. This helps create warmth and connection in your home.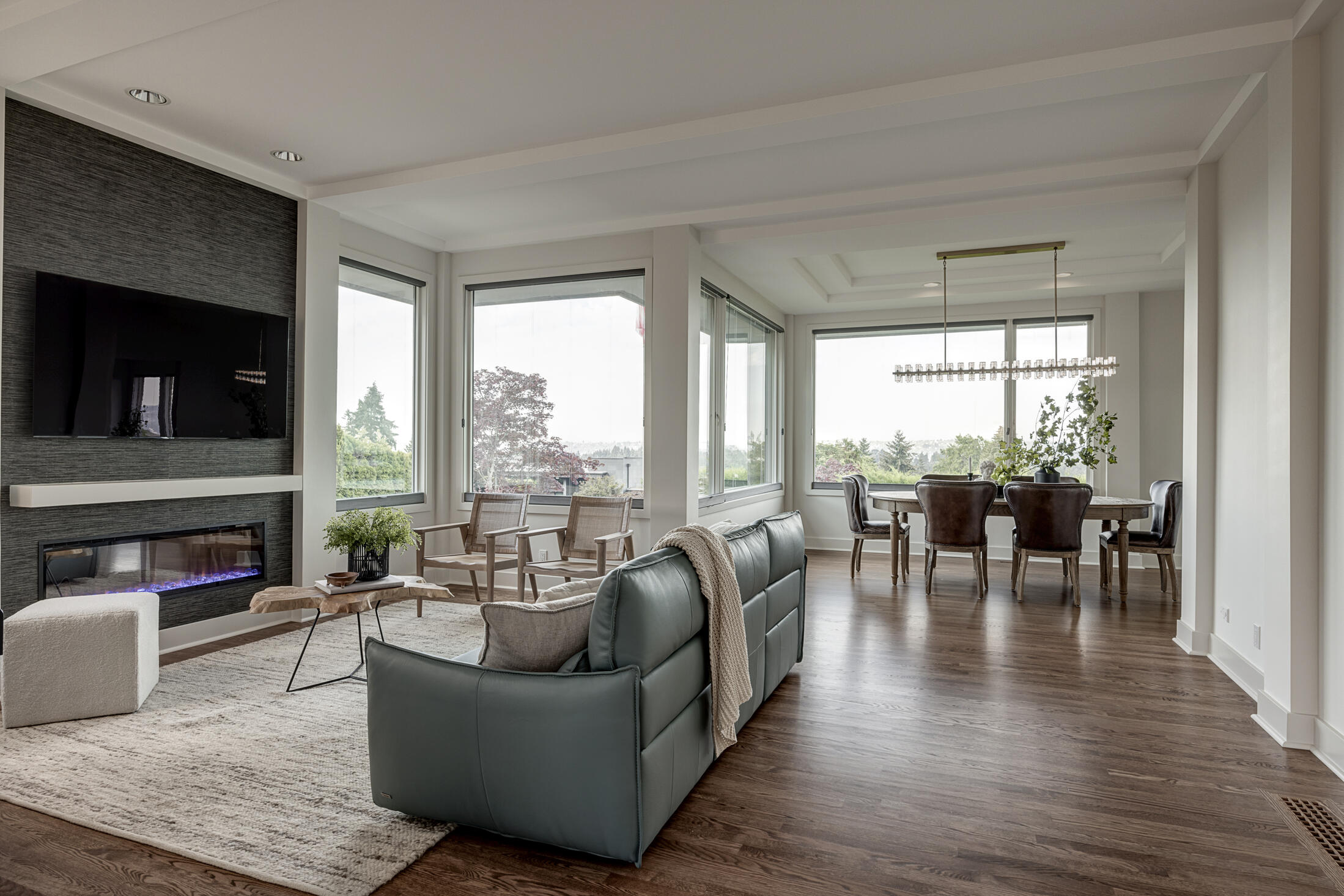 Many people choose some unique and elegant ways to make the fireplace more central to the design of their home.
Many homeowners choose to make the wall around it functional and pretty beyond the traditional hearth and mantle.
There are a variety of materials that can turn it into a stunning statement piece.
Fire can be made with more aesthetically interesting materials than wood or gas such as fireballs, crystals, gel, and various decorative rocks.
Some people opt to update by minimizing the design and others opt to uplevel the details within the fireplace to reflect their style or the architecture of the home.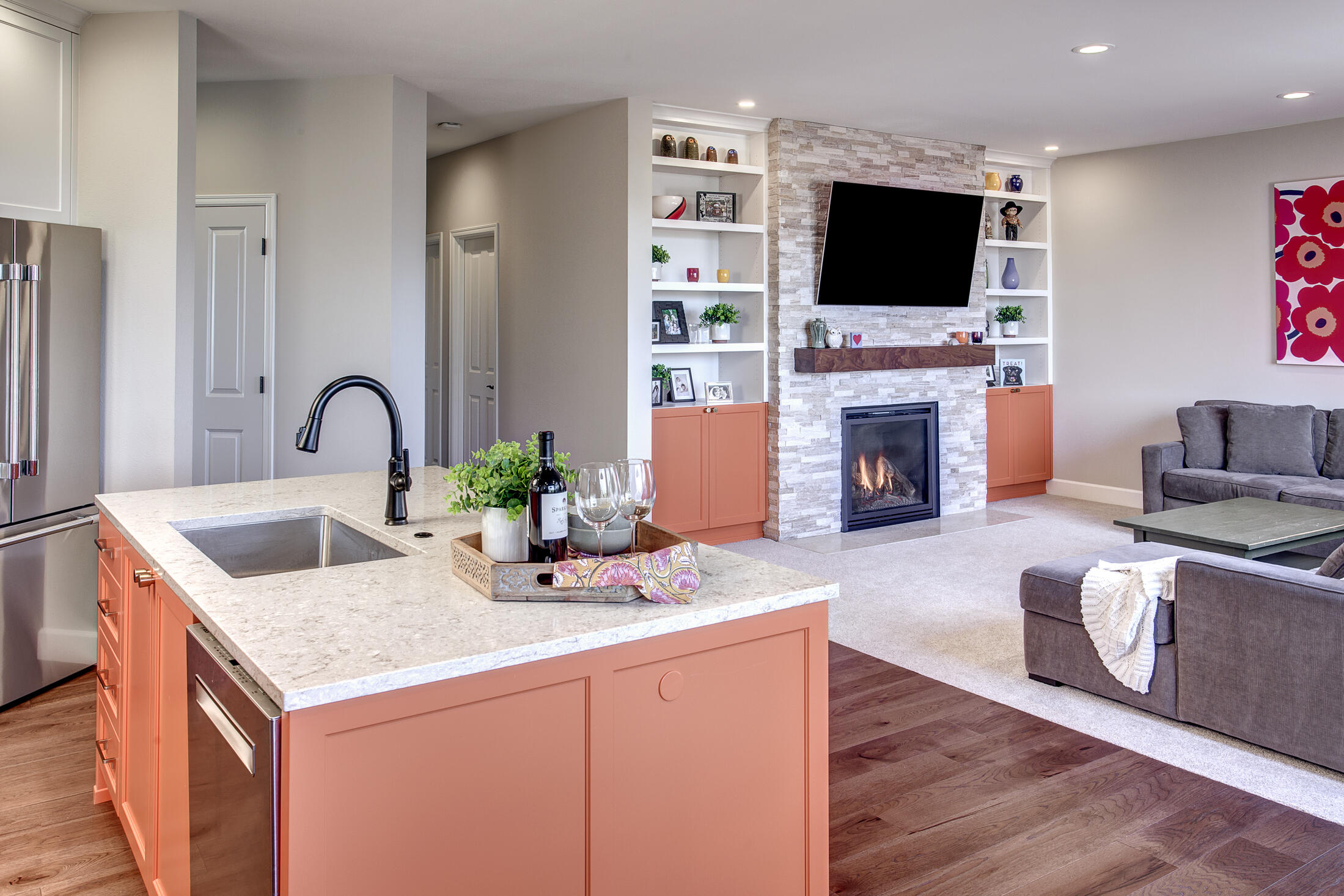 SO MANY CHOICES IN FIREPLACE DESIGN
When it comes to choosing the look, feel, and design of your fireplace, there are as many choices as there are ideas. A sleek insert built into the wall, surrounded by shelving, can free space that once was a wall of brick. A modern take on an old-fashioned stove can open the rest of the room to more practical use. Modern design choices let you find delight in the details that you love, without losing the welcome heat and energy savings that come from having a fireplace.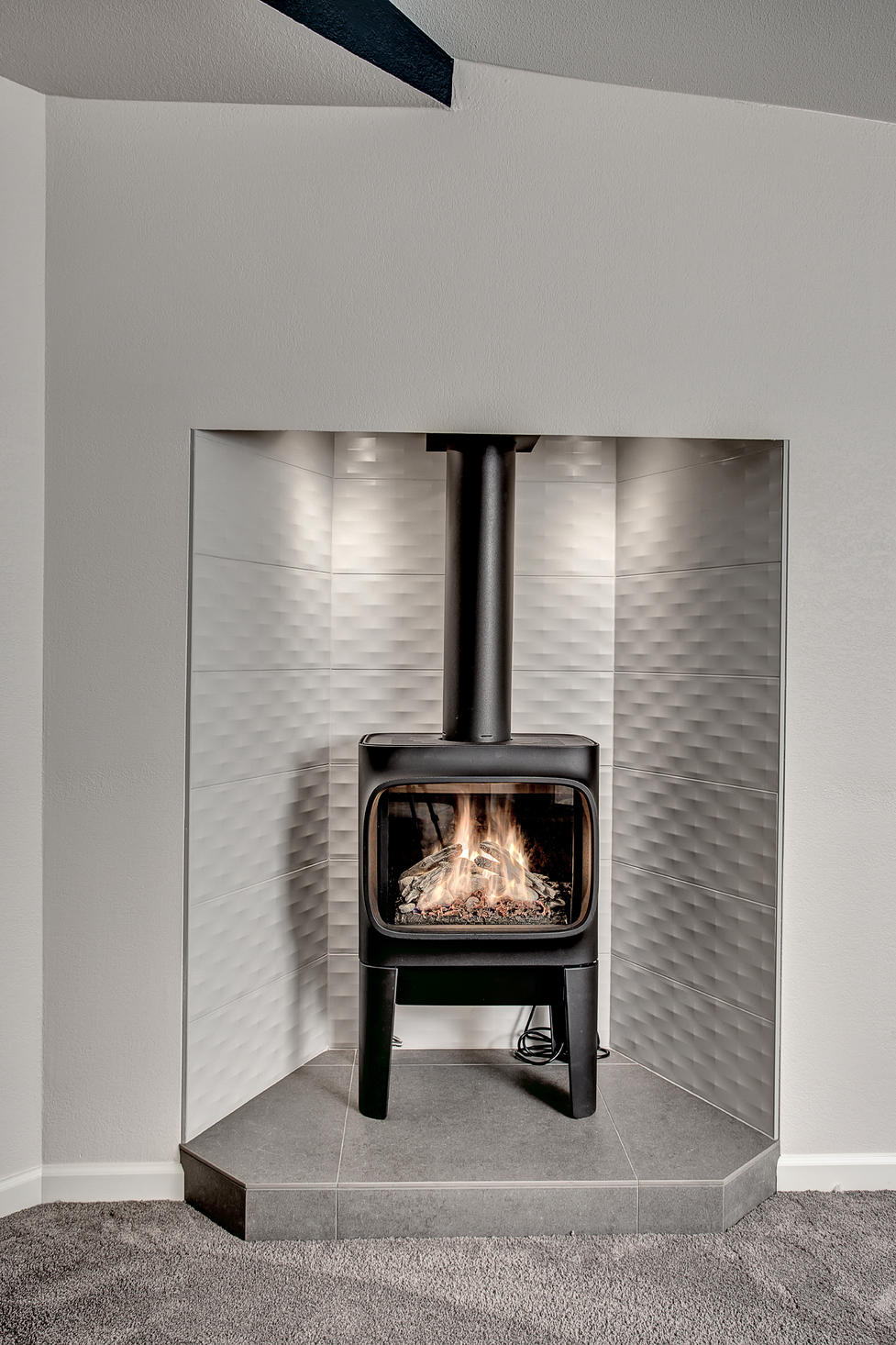 WHAT IF I DON'T HAVE – BUT WANT – A FIREPLACE?
Many new homes are built without fireplaces because few people heat their homes with wood anymore. But you can add a fireplace to your existing home; our team can help you incorporate it into your design remodel, being sure to address safety issues and ensure that the fireplace you choose will be a functional and aesthetic addition to your home.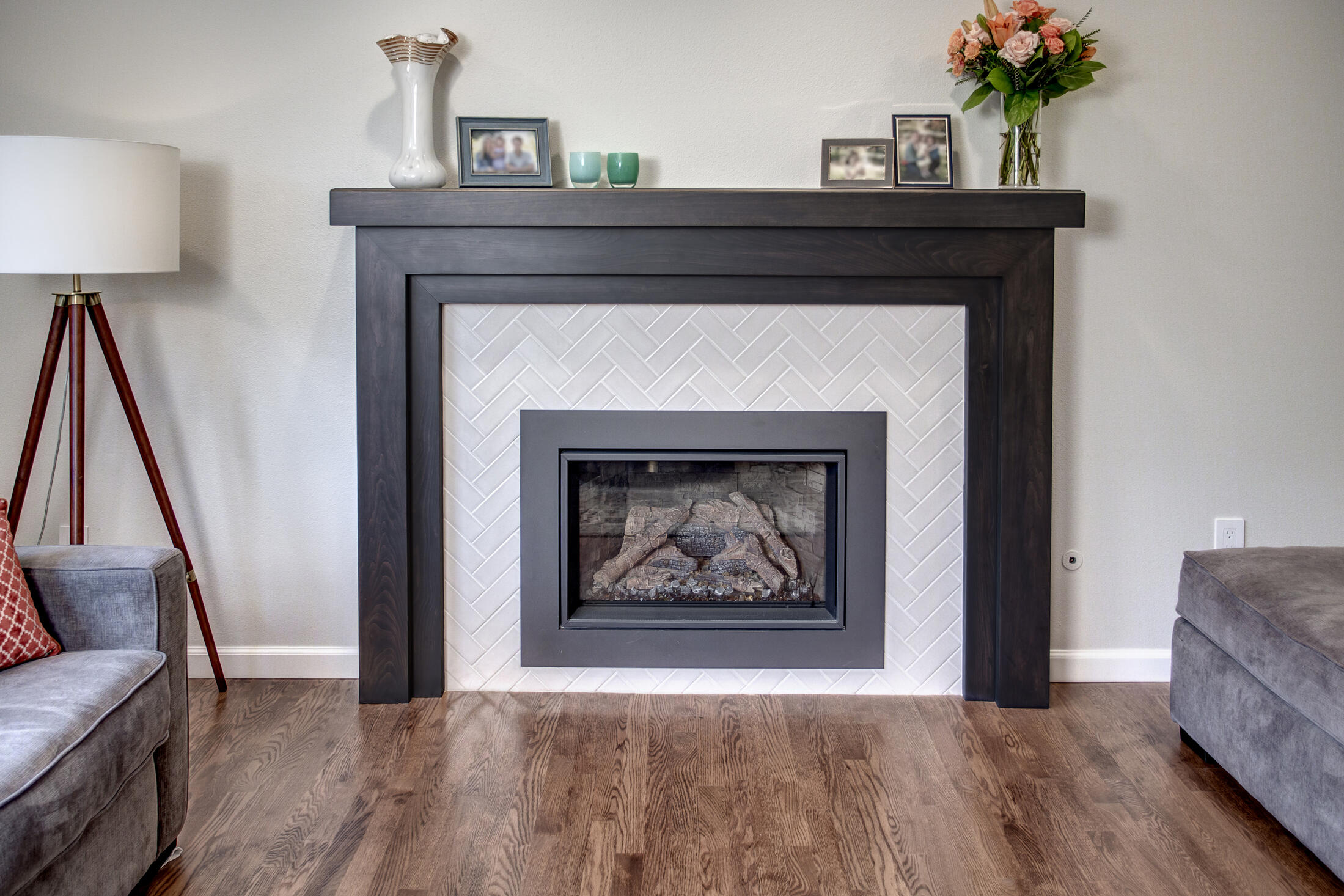 Are you ready to sit down with our team and talk about what we can do to create a home you'll love right down to the last detail? Get in touch!