For the last couple of months, we've been exploring how our designers help you to envision your space and then work with you to find your personal style. In this final part of our series, we turn to the details that transform your design remodel from home renovation to design delight.
WHAT DO WE MEAN BY DELIGHT IN THE DETAILS?
When we talk about the details of your home remodeling project – those details that we want to get just right – we mean the little things that make a difference between being merely satisfied with your home's transformation and gasping little sighs of joy with the experience. The detail could be as simple as the ideal handles on your cupboards. It could be a secret door that hides away all of your appliances, so that you don't have a cluttered countertop. It could be the fireplace mantle that your dad made, preserved and carried over into the new design. Or, it could mean incorporating a favorite family cobblers block from the 1800s into the kitchen island, as we did with this Woodinville kitchen.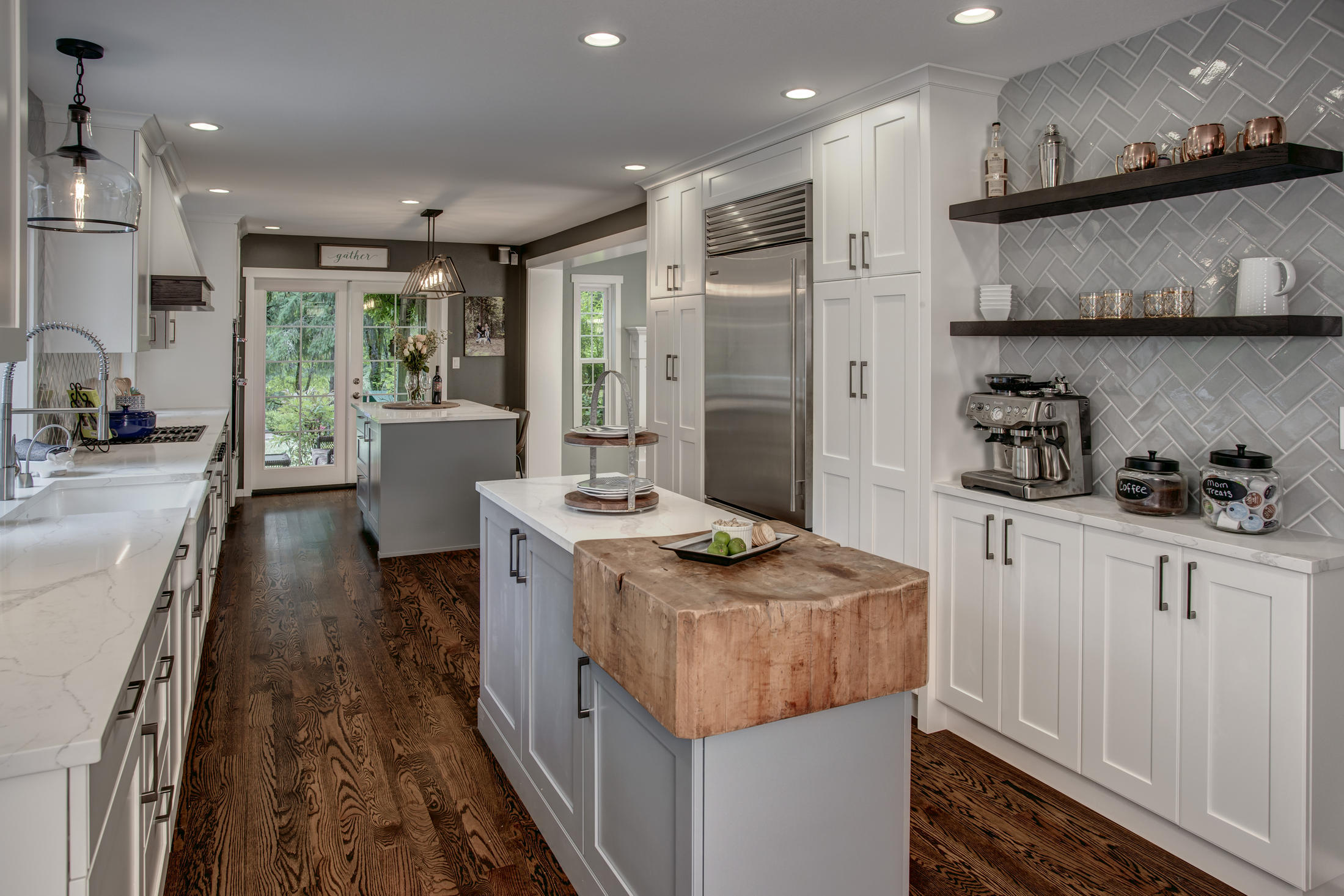 THE DELIGHT IS IN THE DETAILS
Once we've helped you determine and articulate what you need to make your home more functional, the next objective is to make sure the details we include really speak to your personal style. How do we discover your unique style? We talk! Communication is the cornerstone of every project we do. But we don't just talk; we ask questions, show you pictures of other projects, and even bring sample materials for you to see and touch and experience.
YOUR HOME, YOUR STYLE, OUR SKILL
You don't have to find the words to explain that you like crown molding or chair rails or casings; you can simply show us which designs you like as we peruse photos from previous projects. The weight of the doors, the types of lighting fixtures, or the color of the kitchen faucet: These small details are as important to the overall home remodeling experience as is the big picture. We work with many amazing vendors who can help us find just the right look to complete any room.
DETAILS TO CONSIDER AS YOU DEFINE YOUR PERSONAL STYLE
Our designers take pleasure in helping you define your personal style and helping you discover delights you hadn't even thought about. Here are some of our favorites:
THE IDEAL LIGHTING
THE IDEAL BACKSPLASH AND KITCHEN TILE
THE IDEAL FAUCET(S)
THE LITTLE THINGS THAT MATTER
Are you ready to sit down with our team and talk about what we can do to create a home you'll love right down to the last detail? Get in touch!
Like the images featured on this blog? Start getting inspired with a tour of our portfolio.