The holidays are just around the corner! Suddenly, our kitchens are going to feel too small and cluttered to successfully pull off the holiday baking and dinner masterpieces we're planning. Or worse, you don't entertain for the holidays at all because the logistics of gathering everyone in such a small space are unrealistic.


There's a reason we field the most calls for kitchen remodels just after the holidays. That's when most homeowners realize how essential it is to invest in a new kitchen; they hit their breaking point with kitchens that have not been modernized or remodeled to provide the functionality they want and need – not just during the holidays but year round.


Do you feel separated from others when you are preparing a meal? When someone offers to help in the kitchen, does your space make it impossible to cook while someone is getting food out of the fridge to prep a different dish? It can be so frustrating when you are excited to visit with your family, but the kitchen is uncomfortably hot or no one can help you because there is no room for another body.
The Kitchen Is the Center of the Home
For most people, the kitchen is the center of the home where people gather not just for meals but for family gatherings, for game night, and for making memories. Especially around the holidays, we find ourselves hanging around the kitchen, even when we're not cooking.


While planning and designing a new kitchen takes time, this is the perfect time of year to start paying attention to what's not working for you:


Do you lack the counter space you need?
Would a second oven or a couple of extra cooktop burners be helpful?
What about a drink station where you can make coffee and hot chocolate in the morning and mix drinks for guests in the evening?
Maybe you need more wine storage or custom cabinets for your appliances.
Now is the time to dream about what could be different – and to call us to start turning those dreams into a reality. Be sure to check out these hot kitchen trends from our designer, Allison Scott.
What Does My Kitchen Need to Be Functional?
When our designers work with you to create a plan for your kitchen remodel, they will familiarize themselves with your cooking and entertaining habits, the flow of your current space, and how the existing space prevents you from having the functionality you need. Functional aspects of your kitchen can include any of the following:
Need more counter space? Appliance garages are custom storage solutions for your appliances, freeing up space you need for meal prep. Here are some we've designed for clients.
From coffee drinkers to entertainers who want to be able to mix drink for friends, a drink station can give you a dedicated space. We can add refrigerated drawers that serve as chilling spaces for standard drink options, libation areas, a coffee bar, and a beverage alcove with more of a cozy sitting space to enjoy your morning coffee.
A kitchen island can transform your kitchen with extra storage, more work space, and room for guests to gather. Here are some of our favorites:
Faucets are often updated for aesthetic reasons during a kitchen remodel, but there are many functional reasons to update your kitchen faucets, too.


Have you ever needed another set of hands while cooking? More and more appliances are being equipped with voice technology, including the Brizo Voice IQ. You can enjoy the ease of a precisely measured amount of water at the perfect temperature every single time.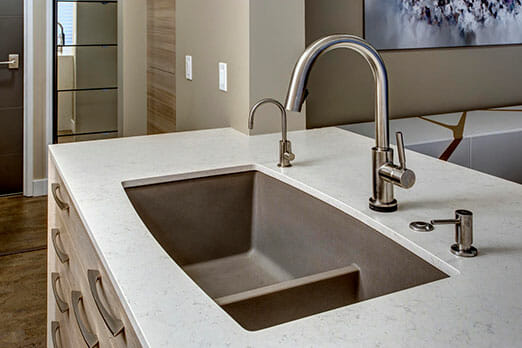 Pot fillers are a wonderful convenience addition to your kitchen. They are typically wall-mounted and allow you to fill large pots directly on the stove. No heavy lifting and perfect for the home cook who has little time!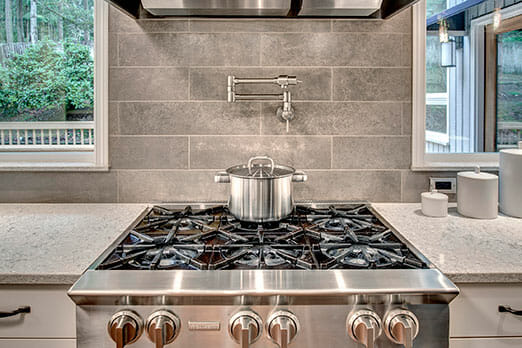 Better Access to Outdoor Cooking Spaces
One of the design elements we focus on with every design-build remodeling project is flow. Flow expresses the way in which your rooms connect, how you move throughout your home, and how this all ties together. When you're considering an outdoor kitchen addition, or have an outdoor kitchen but want better access, the design should include these same elements of flow – how you'll move in and out of your home, how accessible the kitchen is from the patio, and how easy it is to entertain guests without being completely isolated when you are inside.


For example, in this Woodinville Kitchen, the homeowner had a beautiful backyard but felt completely disconnected from the outside because of the cramped, enclosed kitchen. We opened up the space, extended the counter to an outdoor bar, and created a cohesiveness between the kitchen and the outdoor space.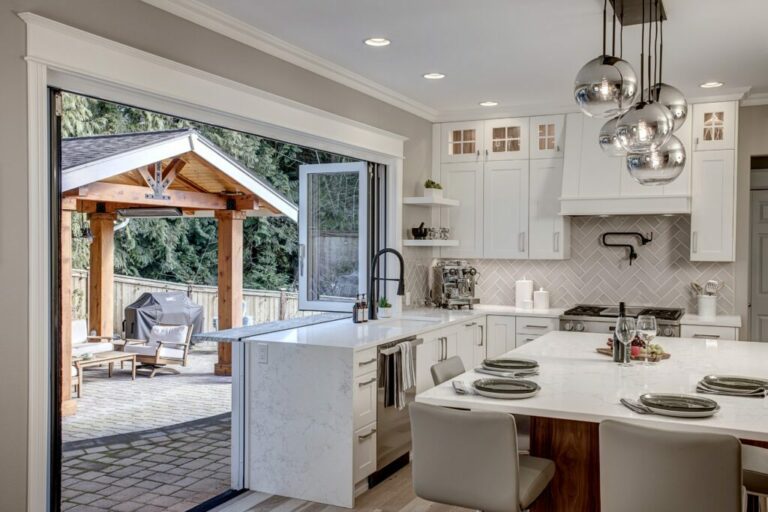 Pacific Northwest natives know that in our rainy climate, there will likely be many days when it's too wet to enjoy an outdoor kitchen without the right kind of cover. And while aluminum roofs are low maintenance, they trap heat and block light. Instead of either a pergola or an aluminum roof, consider an ACRYLITE® cover, a wood-framed roof with skylights, or a glass patio cover.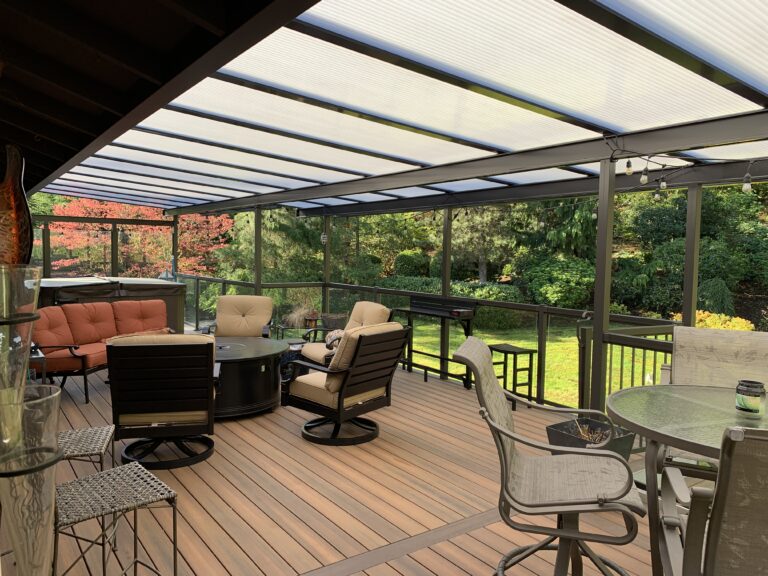 More Outlets and Charging Stations
There are so many cool appliances for the kitchen, from air fryers to electric sandwich makers. And we all spend a lot more time on our phones and tablets than we used to! A modernized kitchen should reflect these changes with plenty of outlets and charging stations. New electrical outlets create less clutter with a variety of charging port types, with aesthetics to meet the look of the project.
In some cases, as our designers examine your space, they may suggest moving your entire kitchen. So many homeowners have unused spaces – formal dining rooms and living rooms, spare bathrooms, or inconvenient pantries – that allow us to help them envision an entirely new kitchen that takes advantage of the underutilized space they already have.
What Details Can Add to the Aesthetics of My Kitchen Remodel?
What's the point of remodeling if you don't absolutely love the look of your finished space? While we place a huge emphasis on structure, flow, and safety, it's important that when all is said and done, an equal emphasis is placed on the aesthetics of your space. Our designers love to hear your ideas and look over your Pinterest boards. They can then show you a variety of samples to help you choose what you want in tile, backsplash, flooring, faucets, cupboard handles, and colors – oh, so many colors! The small details can make such a huge difference in your kitchen, too. Some of our favorite details include:
Heirloom Cutting Block Built into the Island
Recipient of both an MBA Remodeling Excellence award and a first place Chrysalis award, the pièce-de-résistance of this Woodinville kitchen remodel was the creation of a permanent home for a family heirloom — a cobbler's block from the 1800s that the homeowner had grown up with was incorporated into the kitchen island. View more photos from this amazing project.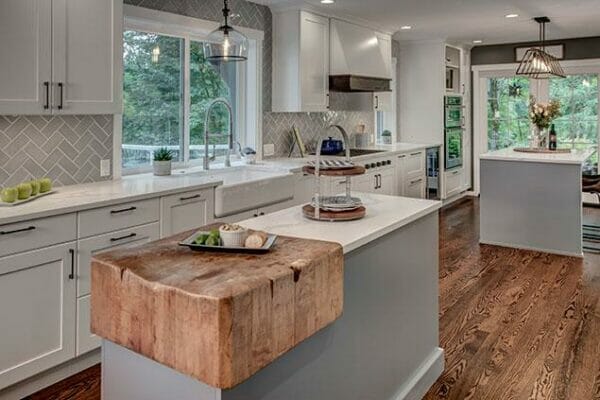 Custom Design Embedded into the Backsplash
We encourage personality and personalization when creating your kitchen design. We focus on those custom needs as we design the functionality of the space, but it's equally as important when we're working on the aesthetics. In this Woodinville kitchen remodel, the backsplash tile incorporated a favorite butterfly from the client's childhood. It's these little touches that delivered a truly one-of-a-kind atmosphere.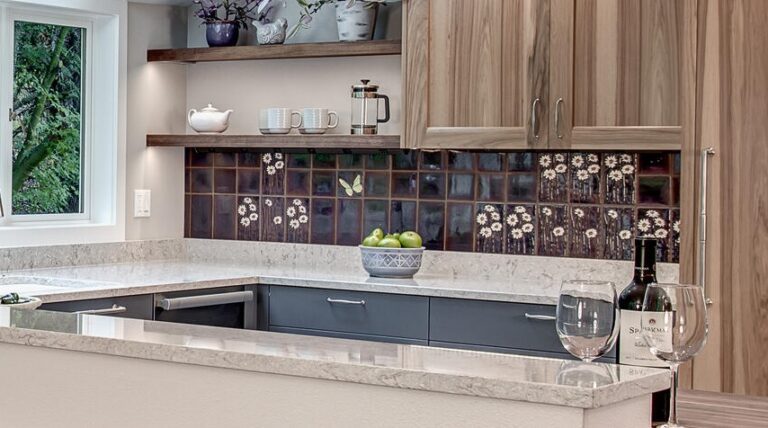 Brightly Colored Cupboards that Infuse the Room with Energy
While following color trends that quickly change can cause your kitchen to look outdated too quickly, choosing color splashes for your kitchen that resonate with you and your personal style can be a wonderful way to make the room your own.
Special Lighting Fixtures that Add Personality
The unglamourous life of lighting, outlets, and plumbing can also benefit from the internal treatment that makes the new pretty selections work even better.
There's a reason we encourage you to dream big when you're thinking about remodeling. We want you to imagine changes – to your  kitchen or your bathroom or your entire home – that will make you so excited to invite people over, host during the holidays, and endlessly entertain throughout the year. And to give you a space to recover from all the fun, we can help you design a quiet place of escape where you can listen to music, curl up and read by a modern fireplace, or simply spend time enjoying your home.
Now Is the Time to Start Planning Your Kitchen Remodel for Next Year
It's never too early to start planning your kitchen remodel; so, if you're even thinking that you'll want a new kitchen before the next holiday season, let's start talking now!


We're excited to help you start planning your kitchen remodel. By the time next year's holidays are around the corner, you'll be doing your final walk-through and issuing invites to Thanksgiving and Christmas dinner.