This time of year, we all are eager to spend a little more time outside, and backyarding is becoming a huge trend. Why wait to roast marshmallows and look at the stars on camping journeys when you can do it any time in your own backyard!
We have worked with several homeowners in Sammamish, Cottage Lake, and other Eastside communities, taking advantage of the beautiful areas in which they live by either including an outdoor kitchen and other outdoor features as part of their design-build remodeling projects or by opening up their kitchens to make sure they have a full appreciation of and access to their existing backyard spaces.
If an outdoor kitchen is something that appeals to you, here are some of the factors our designers suggest thinking about as you visualize the home of your dreams.
Access to Your Indoor Kitchen
One of the design elements we focus on with every design-build remodeling project is flow. Flow expresses the way in which your rooms connect, how you move throughout your home, and how this all ties together. When you're considering an outdoor kitchen, the design should include these same elements of flow – how you'll move in and out of your home, how accessible the kitchen is from the patio, and how easy it is to entertain guests without being completely isolated when you are inside.
To create this flow, we remove the wall between the kitchen and dining room and expand the access to the backyard by installing large frameless folding doors, creating a connection between the indoor and outdoor spaces. Enlarging the kitchen window can also help keep the spaces connected.
For example, in this Woodinville Kitchen, the homeowner had a beautiful backyard but felt completely disconnected from the outside because of the cramped, enclosed kitchen. We opened up the space, extended the counter to an outdoor bar, and created a cohesiveness between the kitchen and the outdoor space.
Often, when we're planning for a kitchen remodel, we include the mud room, laundry room, or a combined space in our design so that there is an alternate entry when you still want to be outside even though the weather may be wet or muddy.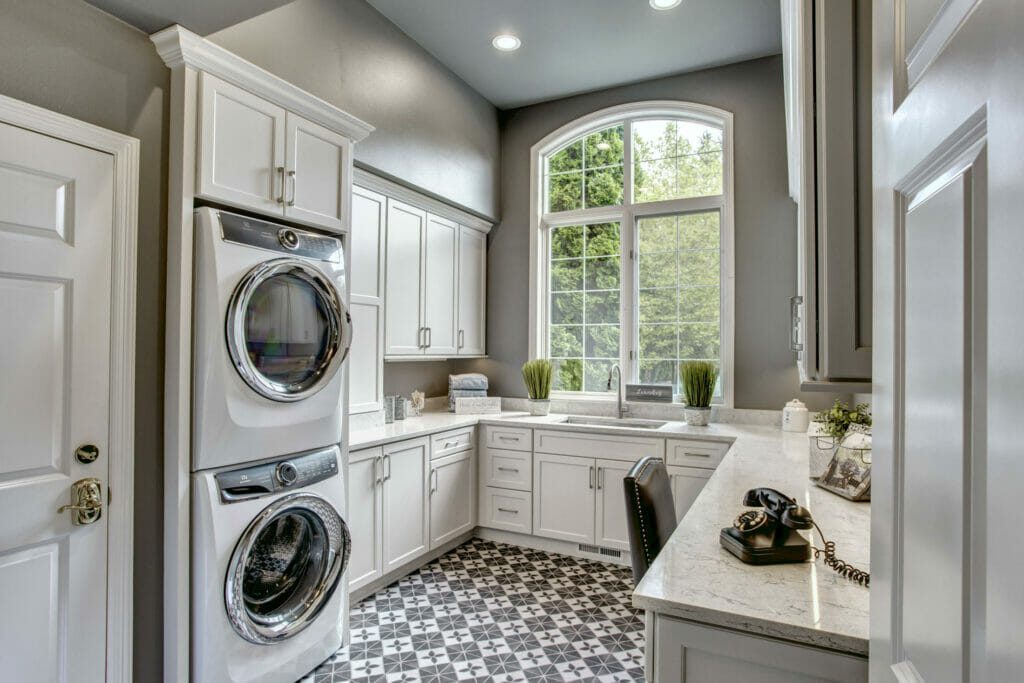 Being Outside Doesn't Have to Mean Being Uncovered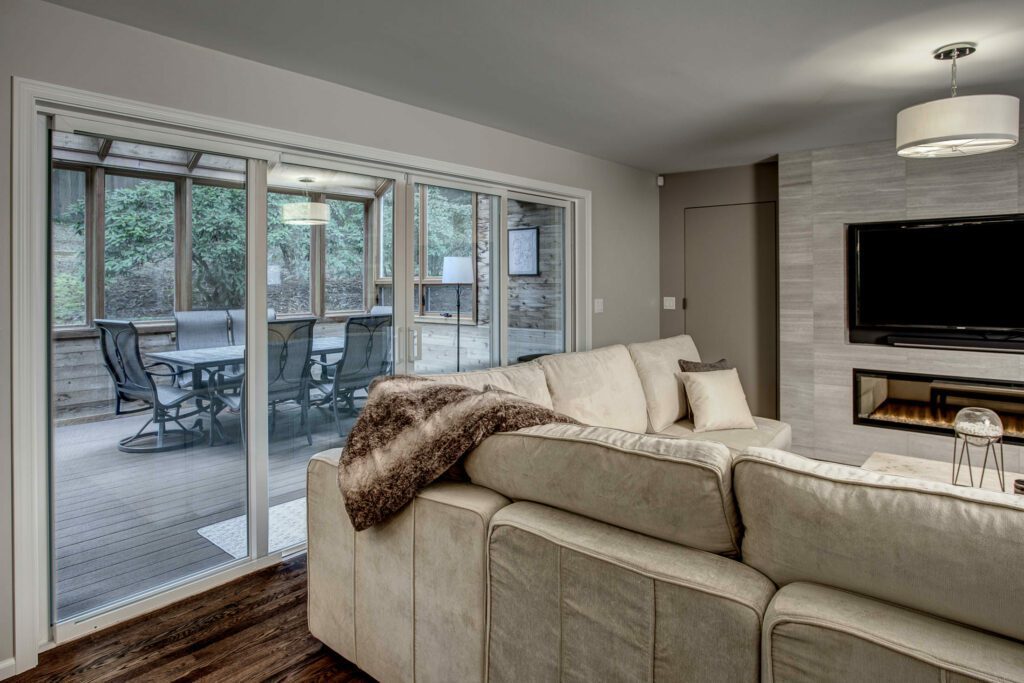 When we start thinking about the design of the outdoor kitchen, elements like ample seating, outdoor heating – perhaps a double-sided firepit or heat lamps – and more can be part of the overall design, as we consider how to build out the patio and deck. But it's okay to dream big and think of your outdoor kitchen not as a simple grill on a patio but rather as a full kitchen that you can enjoy most of the year, with a covered roof that opens onto your yard. While a pergola is a popular choice in warmer climates, Pacific Northwest natives know that in our rainy climate, there will likely be many days when it's too wet to enjoy such a feature. And while aluminum roofs are low maintenance, they trap heat and block light. Instead of either a pergola or an aluminum roof, consider an ACRYLITE® cover, a wood-framed roof with skylights, or a glass patio cover.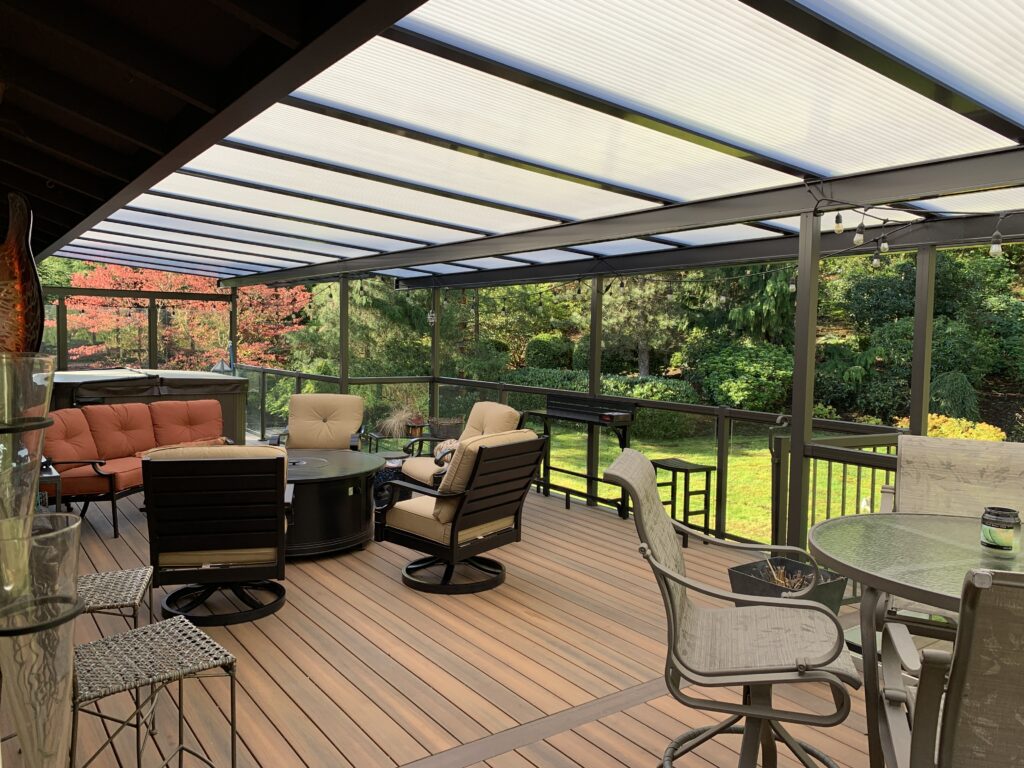 Outdoor Gourmet
Your outdoor kitchen can be more than just a patio dining set and a propane grill. Why not include a full stove and grill, and even a fridge and freezer, for your outdoor kitchen, to make entertaining guests even easier? This will open up many menu options when it's time to consider what you'll serve for dinner. Add a built-in pizza oven, a wood burning fire-pit, and a sink. You'll be the entertainment aficionado of your neighborhood!
Beyond Cooking
The true entertainer knows that food is just the beginning of an event. There are a number of thoughtful considerations that can transform your space. An outdoor theater can really turn your backyard into a magical place for entertainment, with sufficient comfortable seating that provides great views of the mountains and lakes that bless the Eastside, including Lake Washington, Lake Sammamish, Cottage Lake, and Beaver Lake. Other ways to enhance your outdoor kitchen and entertainment space might include adding a pool cabana, a wet bar, or a game room.
Is an Outdoor Kitchen Worth the Investment?
While an outdoor kitchen will appeal most to those homeowners who love to entertain and enjoy being outdoors, the ROI on the investment can be anywhere from 71%, according to the National Association of REALTORS®; and 100-200%, according to Texas Outdoor Oasis. Even with the lower estimate, that's a significant ROI for the increased value of your property.
Nip Tuck Remodeling Is Here to Help with Your Design-Build Remodel
Spring is the perfect time to start planning your dream outdoor kitchen. With warmer weather on the horizon, you'll have plenty of opportunities to entertain guests outside. Whether you're hosting a large family gathering or a small get-together with friends, an outdoor kitchen can greatly impact your cooking experience and the quality of your meals. So why not upgrade your existing setup or start planning that outdoor kitchen you've always wanted? Don't hold back. Dream big!