Sometimes when we live in a place long enough, we start taking it for granted. We don't appreciate all the reasons we fell in love with the home in the first place. So how do you fall in love with your home again? Sometimes it just needs updated to reflect your personal style. If you're thinking about the wall that should move so you can see between the kitchen and family room, or where you wish you could put a double oven instead of the big one taking up counter space, those are signs you love your house but need an update. If you've lived in your home for 10 years or even longer without making any updates, it's likely that not only is the design of the home out of date with modern styles but the makeup of your family has changed, too. Here are five design remodel ideas that can help you fall in love with your home again.
Go for the Gourmet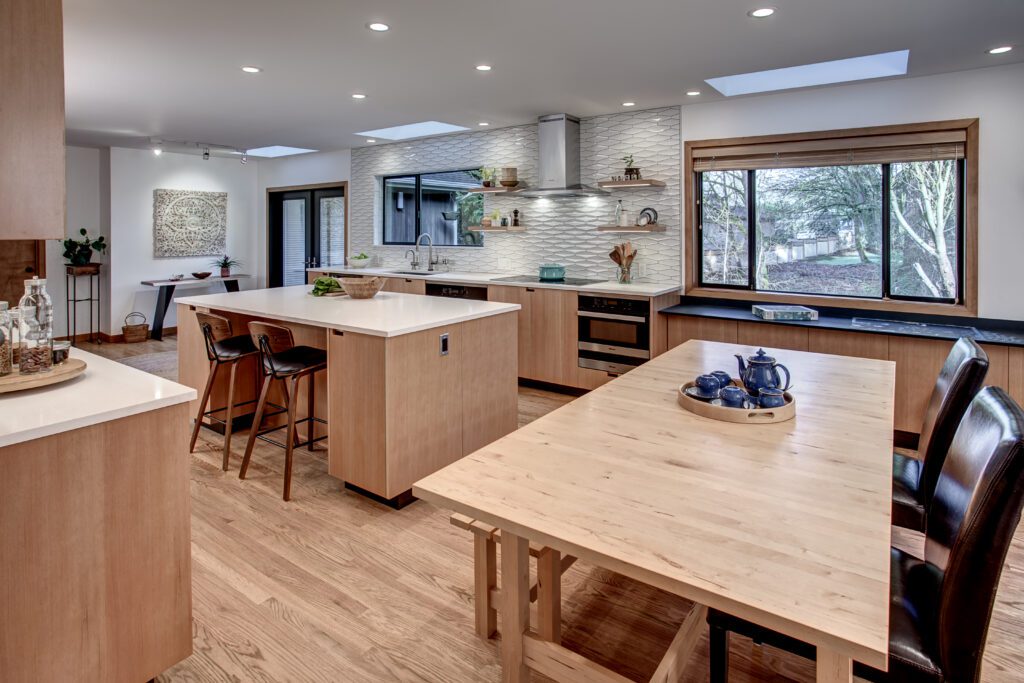 Today, the kitchen is one of the most popular areas to remodel. Having just finished yet another holiday season, you might agree. There are so many ways our designers can help you bring your dream kitchen into reality. Whether you need to add more light to your space, freshen up the floors and countertops, or tear the whole thing out and start from scratch (we've even relocated kitchens from one part of the house to another), it can transform how you feel about your home.
Create an Oasis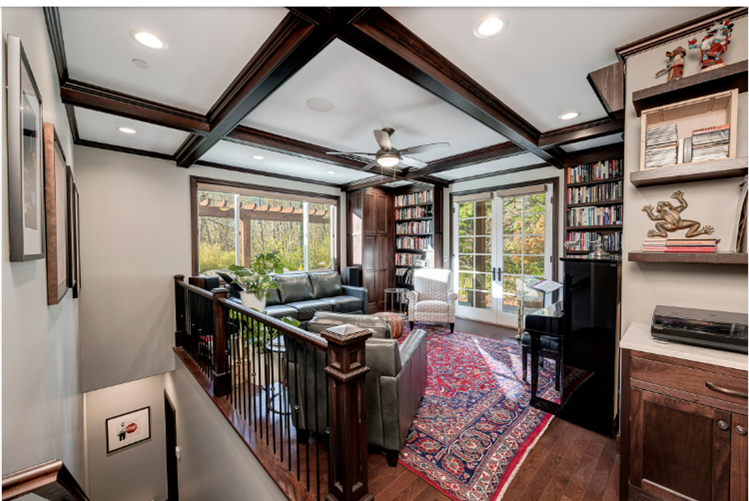 We all need a place in our home that can be your place of escape. For some, it's the bedroom, where you can retire early and snuggle through a movie or curl up with a good book. For others, it's a special space, like the music room pictured above. For many of us, our sacred spaces have become temporary office spaces over the last few years with working from home. With hybrid work becoming mainstream, it might be time to move that home office to its own space to give you the relaxing, get-away-from-everything spot you've always dreamed of.
Home Spa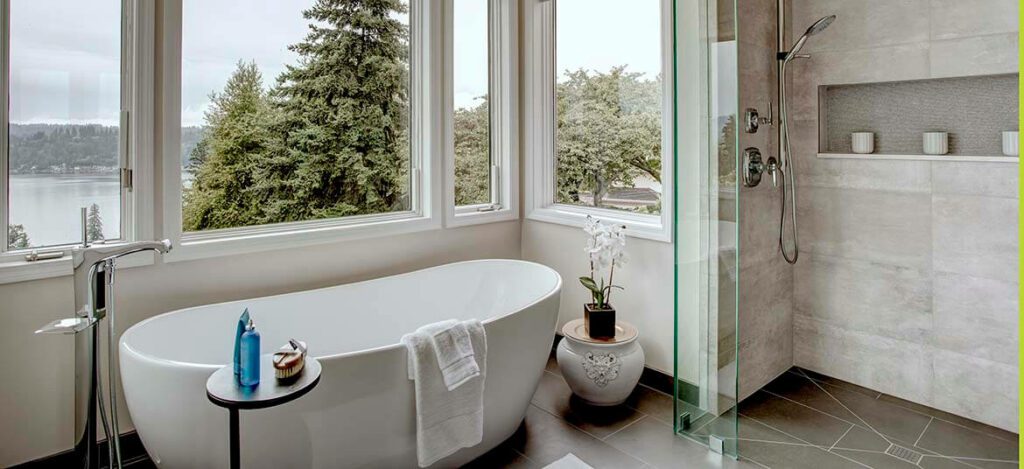 Older homes have bathrooms that simply don't give you joy when you walk in. And when it comes to your main bathroom, you deserve to feel like every time you are in there, it's an experience. From heated floors and towel racks to multi-faucet showers to a personal sauna built into the room, our designers and builders can work magic making the space something you've only dreamed of.
Indoor-Outdoor Entertainment
There are so many ways to increase the entertainment space in your home. Many homeowners have unfinished basements just begging to be turned into a guest room, or a place for the pool table and wet bar. And before we know it, the weather will be beautiful again and all we'll want to do is fire up the grill and have people over to reconnect. That is so much easier when you have a planned space that gives you easy access to your kitchen as well as a great entertainment space outside – maybe even a place to host a graduation party or summer movie night in the backyard. If you love to entertain and can't wait for the weather to let you open your doors to fun, this is one project that will easily have you falling in love with your home again. In fact, you may never want to leave.
Let There Be Light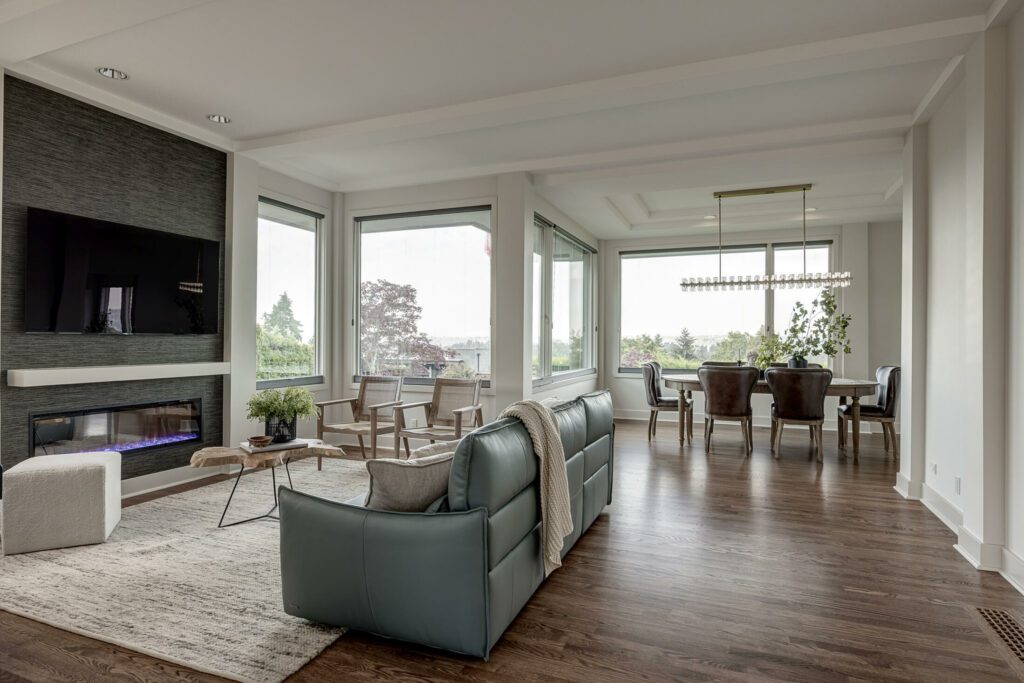 So many homes in King and Snohomish Counties – Sammamish, Bridal Trails, Cottage Lake, Mill Creek, Kirkland, Bellevue, Redmond, Woodinville – have homes that were built when it was popular to have the kitchen, dining room, and living room all isolated from each other. Many were also built when dark wood was used for kitchen cabinets, making the whole atmosphere of the space feel closed, dark, and sometimes claustrophobic. There is magic in opening up those spaces, connecting them with matching flooring, molding, and colors, and adding big open windows that showcase the beautiful views and let in light. It can literally change the mood of the whole home simply by redesigning those three rooms.
Any one of these five ideas – or all of them! – can help you fall in love with your home again. There's no better time to think about scheduling your design remodel. Studies vary, but many show that remodeling is more popular than moving again. It's a better way to personalize your home to better align with your wants and needs. Our designers are eager to help you make it a great experience.
If you love your home but need to fall in love with it again, our team can help you bring your personal style to life and transform your living space into spaces you love. If you have lived in your home for very long, you likely have great equity that you can reinvest for a large remodeling project, which can be more cost effective than moving.
Are you eager to get your home remodeling project on the books? Let's get started!