You've reached the third and final post of our renovate or relocate blog series! First, we explored current market conditions in the Sammamish, Bellevue, and surrounding areas and how they factor into the decision to move. Next, we weighed the pros and cons of moving vs. remodeling. Today, we'll discuss another decision you may face no matter which route you choose: when you need to customize your (new or old) home, should you reconfigure the layout or build an addition to get the extra space you need?
First, let's go over some examples of each idea:
Add Space With a Home Addition
When homeowners are deciding to do a home addition or reconfiguration, we always ask the same question: are you bursting at the seams? If you're already using every single part of your home to its fullest extent, a home addition could be the best option. You may opt for:
Multi-room additions
Multi-room additions are large structures built onto the side, back, or even above your current house. These extensive projects require excavation, foundation and roof work, and considerable changes to plumbing and electrical services. Homeowners choosing to tackle a project this size are also challenged to find a skilled and experienced remodeler to craft the addition seamlessly — or deal with an obvious disconnect between the new and existing parts of the home.
Bump-outs
Bump-outs add or expand a single room in the home. While they are significantly smaller projects than multi-room additions, they still require foundation and roof work. Bump-outs will only affect one part of your home, which could be exactly what you want, or they could limit possibilities for updating your living space.
Sunrooms
Sunroom additions create space typically used for recreation, relaxation, or entertaining and are closed off from the rest of the house. They aren't meant to have bedrooms, kitchens, or bathrooms, so they'll have fewer coding requirements than a traditional addition. Sunrooms are often 3-season areas without heat or air conditioning.
Reconfigure Underutilized Spaces
Homeowners often feel cramped in their house, but when they think about how they use (or don't use) their space, they realize that they do in fact have the square feet they need; they just aren't maximizing the home's potential. Here are some examples of spaces we see underutilized that could be prime real estate:
Formal Living Room
Formal living rooms and front parlors are rarely used as elegant places to receive company. Instead, they've become catch-all rooms with no specific purpose; they can be anything you want them to be. That sounds wonderful in theory, but in practice, they're often just rooms homeowners don't know what to do with. Maybe having it as a playroom was really nice when the kids were little, but now that they're older, it's vacant. Or, perhaps yours is still a beautifully decorated sitting room with fancy furniture that no one ever actually sits in. Instead of trying to think of something to do with the room, consider doing away with it. With a little creativity and (demolition!), the space could be just what you need for an expansive kitchen or the home office of your dreams!
Dining room
Formal dining rooms seem like a good idea on paper, but many families only step foot in them two or three times a year. Instead, our clients have repositioned walls to expand the family room into the previous dining room, or crafted a comfortable home office from the space. Struggling with guest flow when entertaining? Consider combining the closed-off kitchen and dining room into one large kitchen with an expansive island perfect for both food prep and conversation.
Nooks & crannies
Have an extra closet, crawl space, or ultra-deep pantry that's hard to reach into? These are spaces that could be incorporated into the room for better function. Kids' play or craft rooms, workout spaces, or specialty storage areas don't need a ton of square feet but could make a significant difference in the function of your home.
In addition, adjusting several small, underused spaces can make a big difference. For example, we often see primary suites with overly large closets and cramped bathrooms; our designers excel at taking a bit of space here and adding it there for a more balanced and beautiful bedroom.
Basements & attics
Basements and attics have huge potential. Once insulated and walls and flooring are installed, a cold, dark storage space could be transformed into a bedroom, guest suite, office, or playroom.
If any of these sound familiar, repurposing rooms or reconfiguring your layout could be the perfect solution for you. Here's an example of a project that dramatically changed the space in a client's house, leaving its footprint intact:
Case Study: Expanding a Cottage Lake Kitchen
Before: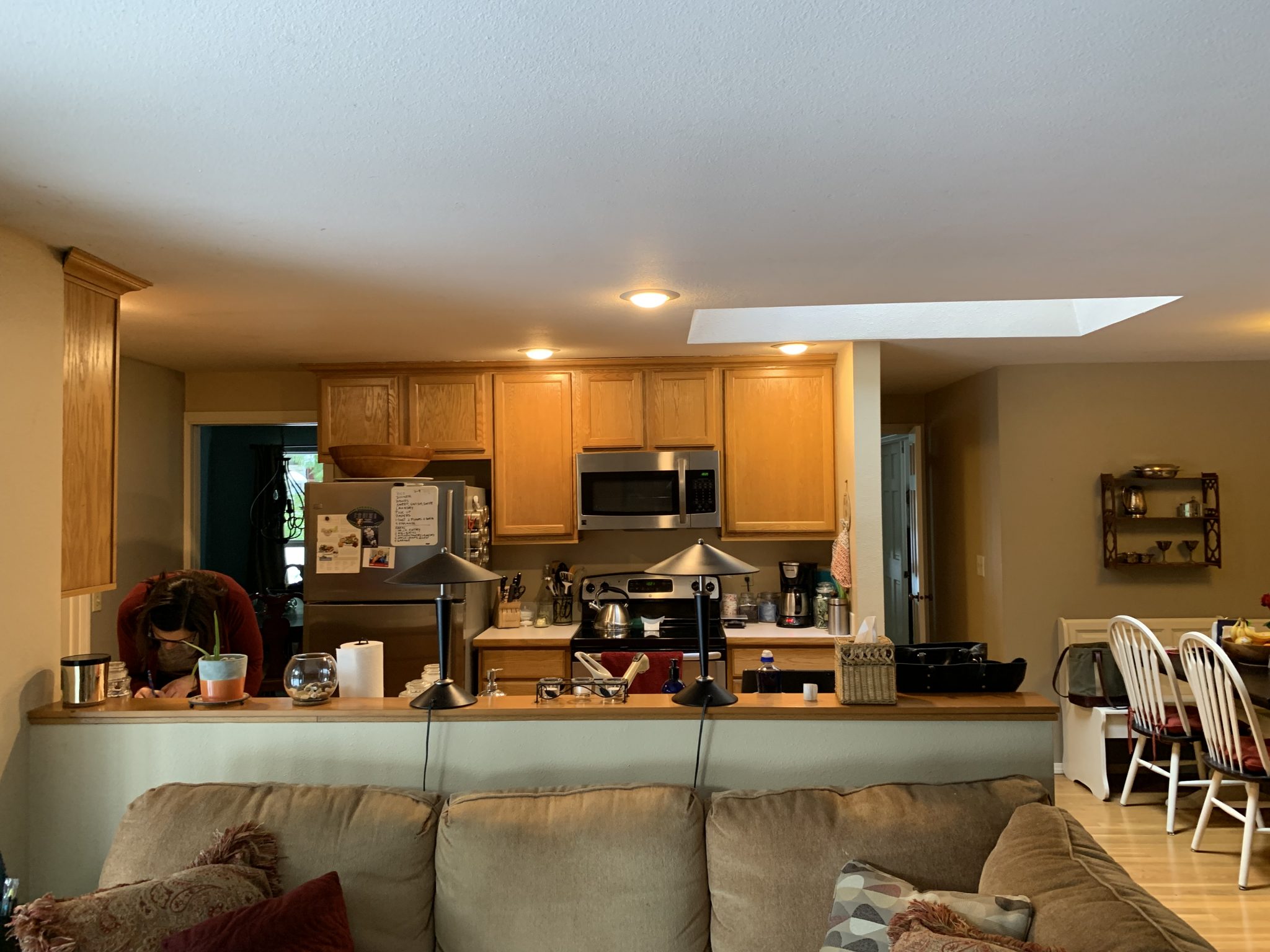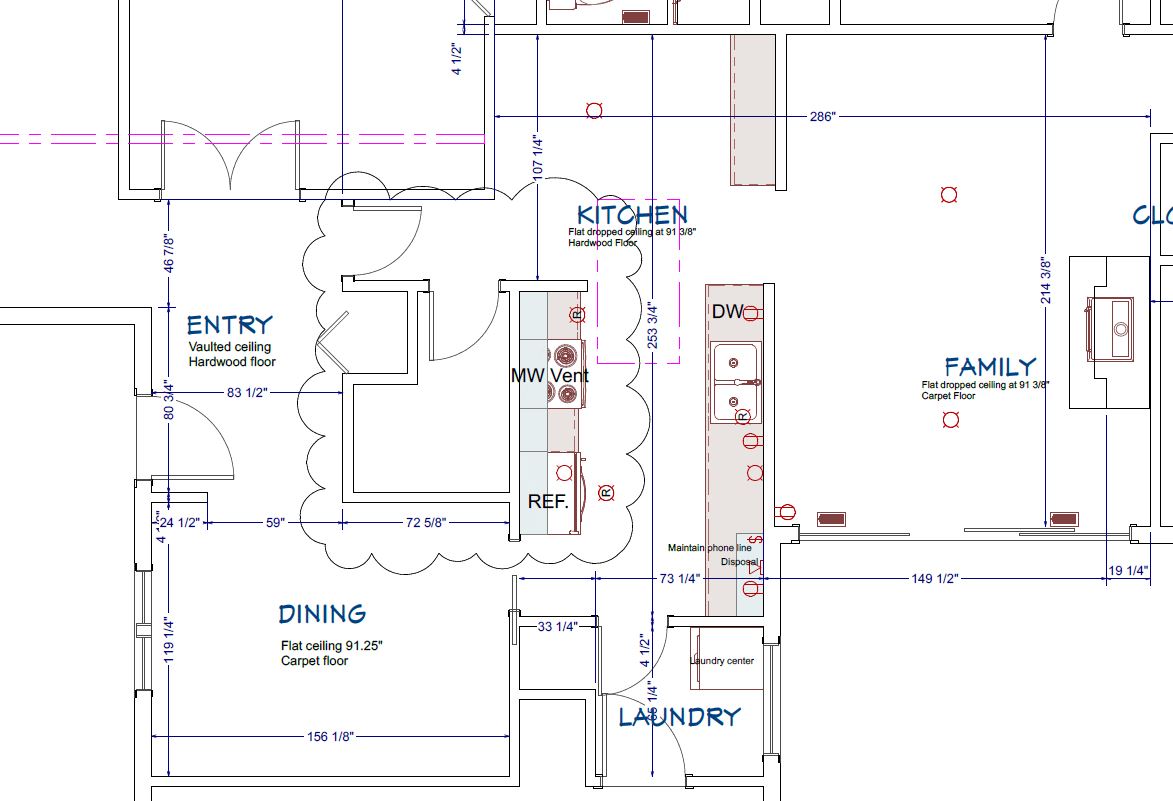 These Cottage Lake clients had a compartmentalized 1970s home without flow. The spaces were underutilized, with both formal and informal dining areas, a small galley kitchen, and a huge pantry that obstructed the flow of traffic and any connection to the kitchen and family room. The space was terribly cramped, with a formal dining room that was not convenient to use and a built-in banquette in the kitchen that took up valuable space. Like many families, they often gathered in the kitchen — not just to cook but to visit, work on homework, or enjoy a glass of wine.
The Plan
Our designers put together a plan that eliminated the walk-in pantry and opened the dining room to the kitchen. The enlarged kitchen would be relocated to the center of the home. The new space would flow beautifully from the front door right back into the family room, enabling the family to have extended family around the dining room table without feeling cramped.
After: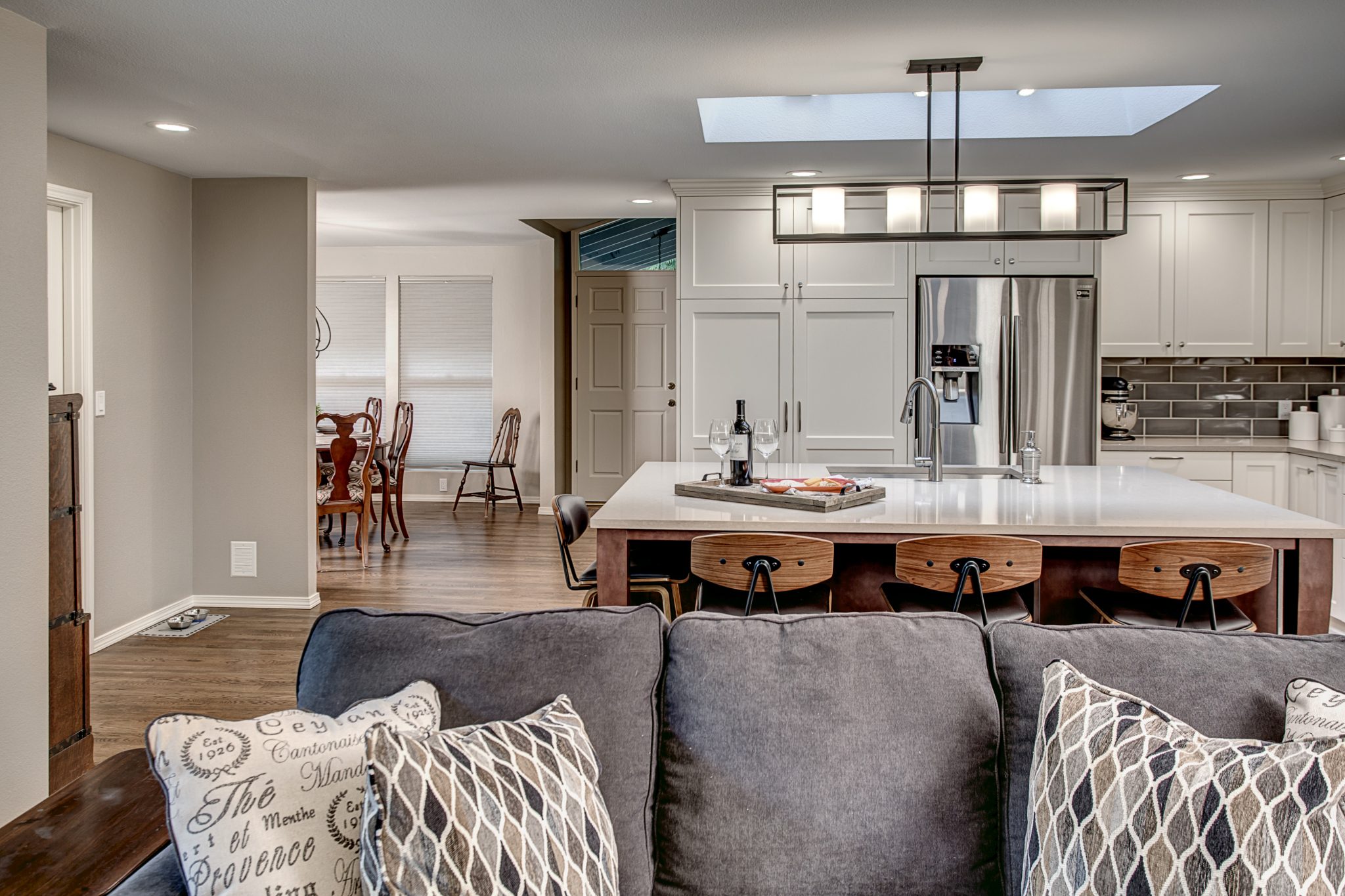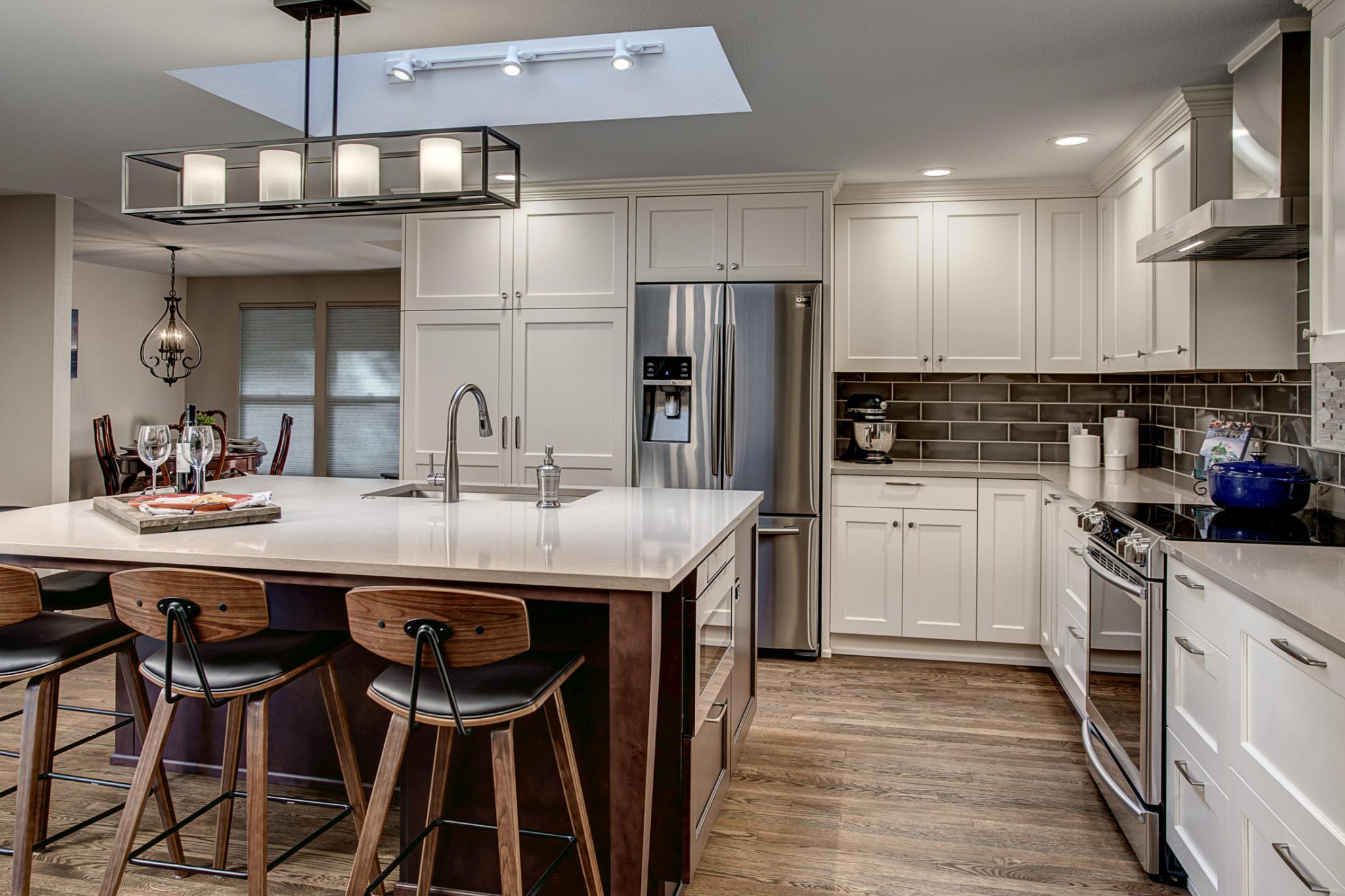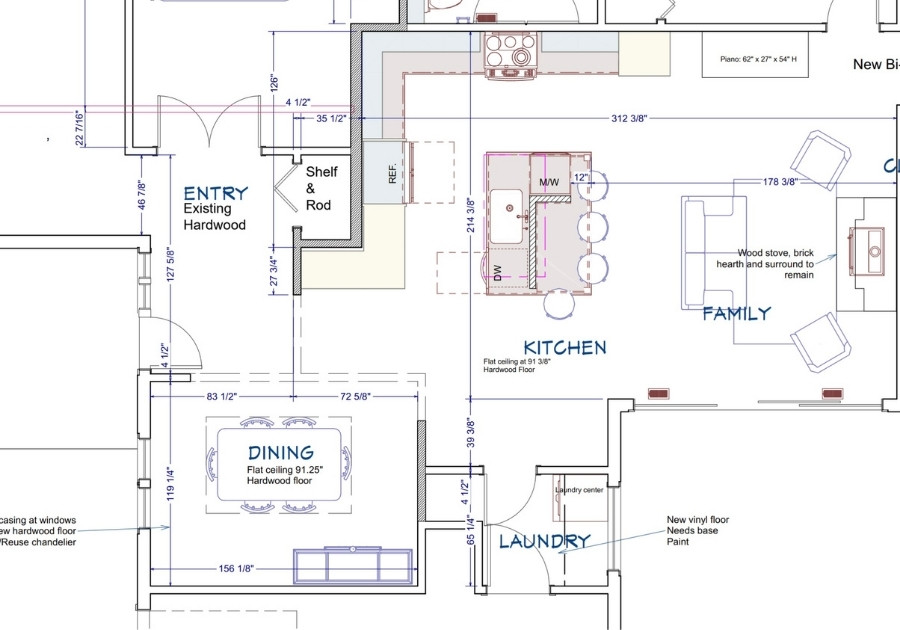 Now, our clients have a classic white kitchen with a gorgeous island where they can prepare meals, chat, and get help with a math assignment all at the same time without bumping into each other. When it's time to sit down for dinner, the family can dine in their new spacious dining room or have a more casual meal at the kitchen table. Best of all, each room in their home is being used to its full potential, with no waste of space and no need for a costly addition.
"I cannot say enough good things about our experience with Nip Tuck. This was a big project that could have been stressful if not for their thorough preparation and attention to detail. They were able to stay within our budget and on schedule throughout the duration of our project, and we now have a beautiful home with much improved floor plan."
If reconfiguring your layout or repurposing rooms sounds like something you'd like to explore, we're here to help. Having trouble imagining a new space? Our designers understand and are experts in their field — there may be a solution you've never considered. Contact us to open a world of possibility!